It was seen by an estimated audience of one billion people - a celebration of everything New Zealand. The opening ceremony of the Rugby World Cup included Hammerhead sharks, hakas, flying rugby balls and a dazzling sound and light show. David Spicer reports that behind the scenes it was a huge logistical challenge.
The team at David Atkins Enterprises in Sydney now has a string of international sporting and cultural extravaganzas under their belt. Who could forget last year's opening ceremony of the Winter Olympics in Canada?
The company was also in charge of directing the Rugby World Cup opening ceremony.
The Technical Director Nick Newey faced many challenges.
"We had three main lighting challenges. We were lighting for a live audience in the stadium and TV cameras and also had video projection onto the field," he said.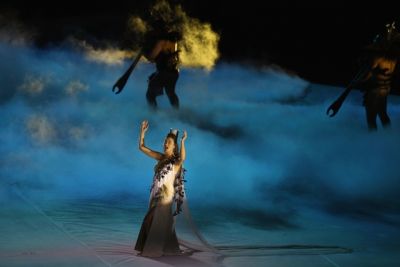 "We had to light the performers while not lighting the ground the performers were on, as this was also a projection screen."
To achieve this the team lit the performers using lights on ground level, shooting across the field but using GOBOS to create a slot of light.
"The video projectors were mounted on the leading edge of the stadium roofs with a projection angle of 30 degrees. We had 16 projectors either side."
The most visually stunning part of the ceremony was the flying moment when the rookie was thrown into the air to catch a giant rugby ball.
"Flying systems are always technically challenging …a lot of engineering goes into bringing in scenery. Most stadium roofs are not designed to take the load. It takes a lot of time with structural engineers to get approval."
Rehearsing was another difficulty. The groundsmen at Eden Park were naturally rather protective of the green turf.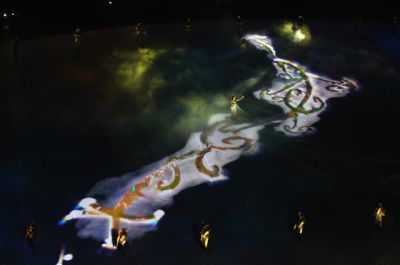 Then there was the need to dismantle the set to make way for the opening match.
"Twenty minutes after we concluded our ceremony they were playing Rugby. We had to clear the field in ten minutes, removing one ton of sound equipment and another five tonnes of lighting equipment. Normally this would take a couple of days," he said.
How did they do it?
"Lots of people; we had 45 loaders, 4 buggies with trailers, 15 technicians did the unplugging and another 40 volunteers."
The end result was an artistic and logistical success, all achieved on a fraction of the budget for these types of events, using equipment available in New Zealand.
The All Blacks appropriately won their opening match in emphatic fashion.
Images: Getty Imges courtesy of David Atkins Enterprises.
Originally published in the November / December 2011 print edition of Stage Whispers.