From the original production of The Rocky Horror Show, towinning a Tony forThe King and I, to extravaganzas on Sydney Harbour, Brian Thomson has created many of the most iconic stage sets ever designed by an Australian. Martin Portus celebrates our master of design.
The writing was on the wall when Brian Thomson, an architectural student in third year, took to using fluorescent paint in his tech drawings. He was to become Australia's best known stage designer but back in 1968 Thomson's big dream was not the stage, nor architecture.
No, with his mind full of New York, Marshal McLuhan and Tom Wolfe, young Thomson wanted to be a Pop Artist, an Aussie Warhol.
It was a chance meeting with an ambitious young director, Jim Sharman, over hamburgers on Sydney's Oxford Street that opened his eyes to what theatre could be. Adopted by the astute impresario Harry Miller, the two were soon designing and directing Hair. Thomson was 25 and life was taking off.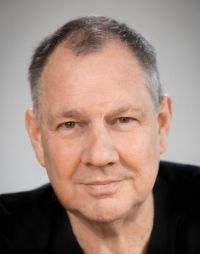 The next year they did Jesus Christ Superstar, first in Sydney, then, amazingly, were asked to mount it in London. Next, 1973, at Royal Court Theatre they invented that delicious cult call for freedom, The Rocky Horror Show. It ran in London for eight years and then worldwide in stylishly trashed venues ever since.
"I never thought that this is my career," says Brian Thomson. "I see myself as an artist, a pop artist, and the theatre is where I do my pop art. The way we convince people to do something; that's why I'm interested in the theatre. The Rocky Horror Show literally changed people's lives, gave them a freedom they never felt before, and so with Priscilla and later with Only Heaven Knows."
Thomson's love of first modelling his work and his relish across a long stage career for engineering challenges, hydraulics and shifting platforms and revolves, marks him out as an impressive architect – but of storytelling. His geometric eye and often towering shapes and surfaces creates imposing, minimalist spaces for actors and singers to shine.
Not for Thomson the clutter of furniture, props and other business of naturalism. Instead, he does wonders with the softening, suggestive drapes and folds of hanging cloth. In Death in Venice, Thomson's giant billowing silks responded to Benjamin Britten's music and the athleticism of the boy Tadzio moving below. One critic called it "the most sensual moment in the history of Australian theatre."
A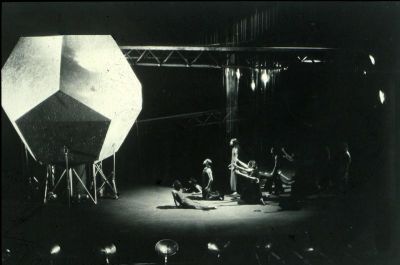 nd on the stage Thomson has flowered into a Pop Artist. A Thomson set so often sports a massive iconic object embodying its world, a billboard, a huge portrait, some giant lettering, an oversized lipstick, a massive chandelier or, as in JC Superstar, a central mysterious decahedron whose panels opened like the 12 petals of a flower.
"I like to think that Jim Sharman and I had very good powers of selection. That's the greatest thing about Andy Warhol, what he chooses, the right image of Marilyn Monroe, the right thing in a supermarket. And I think we had that."
Thomson's zeitgeist skill at selecting the right icon, with a pop artist nod to advertising, made him a darling of commercial theatre makers. His CV bristles with arena productions, operas and big budget musicals.
For the debut of Opera Australia's run of outdoor epics on Sydney Harbour, with Verdi's La Traviata, Thomson created a colossal crystal chandelier modelled on one he tracked down to a mosque in Abu Dhabi. This defining icon commanded the glamorous 1950's style adaptation below it. The chandelier was transported into place on its own barge, and even had its own sponsor.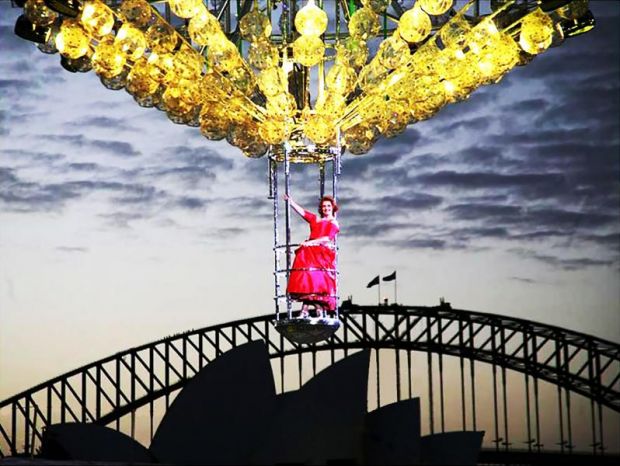 For the second extravaganza, Carmen, Thomson emblazoned those letters in red as a mighty nightly backdrop to the bullring, prominent across the water. Somehow he circumvented the rules against Harbour advertising.
Back in 1970's London, this young, almost accidental designer was quickly being confirmed as a flamboyant, big scale designer with a bizarre imagination. With works like Superstar and Joseph and the Amazing Technicolor Dreamcoat, nothing less than the Bible takes the credit for some of his early achievements in musicals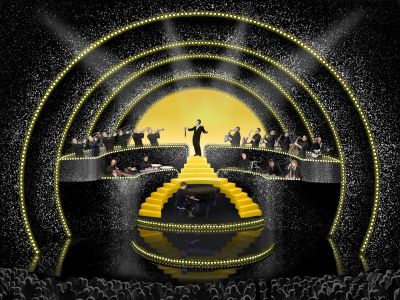 "I like to think I never get caught in a box but that happened to me in London: 'Oh no, he does all those weird or religious musicals,' they'd think. And the number of cassettes I'd get sent to listen to – unbelievable musicals about Noah's Ark and stuff like that! Shocking. So I never want to repeat myself."
Thomson's confidence ultimately, if briefly, hit a brick wall when he fell foul of the US market. First, The Rocky Horror Show, despite worldwide productions, was effectively closed by the New York critics, and the film flopped. And then Barry Humphries' debut show, Housewife Superstar!!!, designed by Thomson and much acclaimed in London, also crashed in New York.
As Humphries quipped, "it fell faster than a Jaffa down a lift well." Thomson though had the last laugh, going on to design most of Humphries' solo shows including his, supposedly, farewell tour in 2014.
By 1979 Thomson and Sharman were more permanently back in Australia, and continuing to make their mark in the revival of plays by Patrick White, notably that year with A Cheery Soul starring Robyn Nevin. Then came their landmark Death in Venice, Thomson's first opera.
"I felt that all the decay and architecture of Venice was in the music and that I didn't need to scenically represent that," he says. "So it was done with some signs, a black box and the thought was to create a 3D labyrinth where you could look down corridors off the black box opening up to form other corridors. Just like Venice is – as I realised when I finally went there."
Thomson proudly asserts his opera sets always have surfaces he carefully positions upstage to support the singers acoustically, allowing directors to use the full stage and maximise dramatic impact.
He went on to design many of the landmark opera productions of his generation, including the world premiere of Richard Meale's Voss, directed by Sharman, and Wagner's Tristian and Isolde with his frequent collaborators, director Neil Armfield and costume designer, the late Jennie Tate.
His stage for Tristan was an angled perspex wing suspended over reflective water and surrounded by towering cliffs of silk. This Thomson signature reappeared in his design for Billy Budd, directed by Armfield in 1999. Benjamin Britten's marine tale was powerfully retold on an endlessly tilting and turning white rectangle backed by cotton sheets with painted clouds. Not for Thomson, those usual expectation of a full ship with decks and rigging!
Not surprisingly, the designer also went through an obsessive film noir period. This took full flight in Janacek's opera The Makropulos Secret, staged for Jim Sharman's 1982 Adelaide Festival.
The central peasant girl, pursuing the elixir keeping her alive for three centuries, was updated to a 20th Century film star, her image on a huge billboard, the set suffused with shadows, venetian blinds and the work of 'white light designer' Rory Dempster. In Act II, Thomson added an iconic black sphinx and throne. The director Elijah Moshinsky, says Thomson, was a slow convert to these ideas.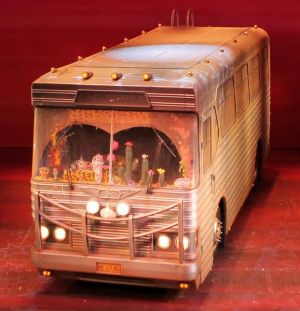 Thirteen years later in New York, while watching Moshinsky's new production of the same opera at the Metropolitan Opera, Thomson was astonished to see his own design icons up there onstage. The Met gave him no royalty, no accreditation, and his legal options, especially overseas, were limited.
For such an internationally active designer, and originator of so many shows that have travelled, Thomson had to get used to the limited moral rights of creatives to control reproductions of their work or to receive any ongoing royalties.
He's haunted online by seeing ever new productions of Priscilla: Queen of the Desert, from Paris to Manila, with their bad 'Aussie' drag queens and copies of his iconic, lit up bus with its opening and closing sides.
"Some productions give you a tiny royalty and credit but when others don't, you can't do much about it. And the question of keeping the integrity of someone's design just doesn't matter out there."
Thomson this year joined director Gale Edwards in publicly complaining that Opera Australia did not re-employ them – or pay a royalty – to restage their outdoor production of Carmen on Sydney Harbour. This, he says, is a recent, unacceptable departure from the accepted operatic practice in Australia that the designer should be there to rework a production into new theatres or with new casts.
And royalties, when they are paid, are now less than they were. For some productions of the Rocky Horror Show, Thomson was initially paid a half a percent of weekly takings. By the 1990's, as for his Tony award-winning design for the musical The King and I, he was paid the same percentage but only – as in the film industry – on the profits, after all expenses are paid out.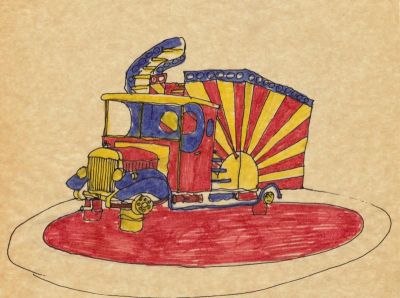 With The King and I, Thomson at least had the rare experience of creating an original design in Australia and being employed to transfer it to Broadway – then a first for an Australian-made musical. Then came the global success of Priscilla, and last year Thomson designed the world premiere in Sydney of Dream Lover, about singer Bobby Darin. All wait to see if this musical gets legs and wins backers in the States.
Brian Thomson though – who in 2005 received an Order of Australia, AM – has long been happy to stay in his home country, working from his Paddington terrace.
"With people like Armfield, Sharman, Gale Edwards, Judy Davis, Rodney Fisher, the directors are so much better here than in America and England, where they're always saying a set has to be read literally, or the audience won't get it. I just think that the theatre that we've created here – and I've been a part of it – is fabulous. And people like Baz and Catharine moved in …and its all very different to how overseas directors work."
Brian Thomson spoke to Martin Portus for a State Library of NSW oral history project on leaders in Sydney's performing arts; the full six hour interview is available on the Library's new website. Click here for part 1.
Images: The Rocky Horror Show (1975); Brian Thomson; the design for Jesus Christ Superstar; with its central decahedron; Verdi's La Traviata on Sydney Harbour with Emma Mathews on board; Dream Lover; original scene sketches for Priscilla Queen of the Desert The Musical (2006); Priscilla - New York and the central scenic piece The Threepenny Opera (Old Tote Theatre Company Sydney Opera House Drama Theatre - opening season 1973) an old truck sitting on bricks, The sides all opened or transformed to become the scenic elements - Peachum's Shop, The Jail, Brothel etc. There was a men's Salvation Army band on top (all in drag). The colours were muted down to a rusty red.