How could you capture the essence of the wide beautiful expanses of water and the winds on the far northern stretches of Australia? That is the challenge facing designer Jacob Nash, an artist-in-residence for the Bangarra Dance Theatre. He spoke to Neil Litchfield about designing company's new double-bill, Belong.
"This year I'm designing the double bill Belong, comprised of Elma Kris' About and Stephen Page's ID.
"Elma is from Torres Strait, so her work is based on her connection to her country – it's based around the four winds of the Torres Strait. The islands are broken up north, south, east and west, and the beautiful winds sort of dictate life and seasons. It's a beautiful piece. It's very hard to design something based around wind, but it gives you beautiful design challenges.
"Elma and I were lucky enough to go up to Torres Strait for a week. You fly from Cairns to Horn Island, and then you take another plane or boat through the Torres Strait. You just fly over the most beautiful colours, and the water is remarkable, and the movement within that water."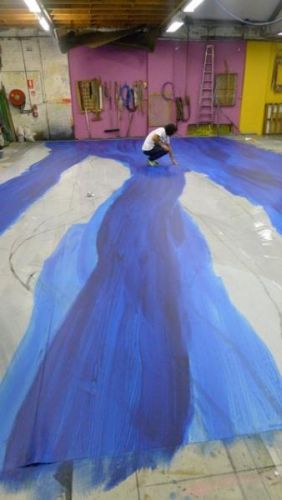 What process was involved in designing for Elma's work?
"I put together an image to give her a sense of what a beautiful blue backdrop could look like with a person standing in the middle of it, with a projection of a crocodile. From that image, more conversation was sparked. We get inspired more as her ideas and my ideas develop.
"Torres Strait is a very beautiful place, and there's hundreds of islands, so the cultural differences to Aboriginal Australians are kind of remarkable. They're a different people, and it's all about ocean and sand and water. What affected me most was the colour. The humidity would have been about 90%. It was huge. And feeling those environmental impacts on you affects the way you design."
How did you translate that into a design when you returned to Sydney?
"You end up with a big palette of images and ideas, and you break it down into what the most important image is, and the most important idea, then you try to realise that in a three dimensional way. I guess the beautiful thing with working in dance is that you are able to create sculpture, and there's people, movement within space, and you aren't as confined by the rigors of the script, as you are when you're working in drama.
"Obviously the design and dance work hand in hand. You never want to push the design too hard, so that it's competing, or speaking louder than the beautiful movement in space and the dancers. There's a fine line between overstating and understating."
Reluctant to reveal too many details of this year's show, and spoil the illusion, we shifted to discussing Jacob's Green Room Award winning design for Francis Rings' work Artefact last year.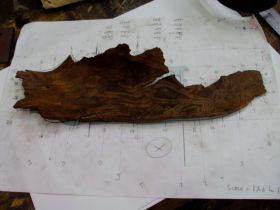 "We had quite a long design period. We went to Adelaide and spent two days in the museum. They've got an amazing indigenous collection. Artefact was based around the idea of those artefacts, and their lives, and what happens when they're taken out of their own cultural land, and they go and live inside someone's house. So the question's their journey – where's their spirit then? How do you bring that spirit back to life. So it was a beautiful idea. The design challenge was, what is an artefact? and how does it become a contemporary design element that can cater for four or five different sections within a piece?
"We looked at lots of different things, and I had hundreds of different photos. (Then) after an hour of walking through parkland and forest near Avalon, I came across this piece of bark. At the time I didn't know that this was going to be the piece of bark, but in the end we sculpted this into an eight metre by two metre piece, and it was the one design element that featured from the beginning right up to the end. It could sit flat, stand up on its end, flip over, it could be picked up, it became a projection surface for film, and it was also suspended in the air. It was this amazing design element, which held the show together visually.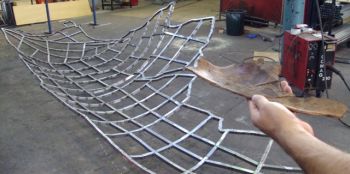 "The design challenges within that were huge; the dancers also sat in it, so it had to be weight-bearing. We sculpted it in steel ribbing, then it was covered in ply and in foam, and in the end it looked remarkably similar, except monstrous. It was a three dimensional sculpture with people in the end. The shape of it represented a vessel on the Coolamun, and the Coolamun, so the dancers breathed life back into it as well. It became a beautiful, ethereal moving and living object. That was an amazing journey."
Are there particular challenges in designing for Indigenous Dance?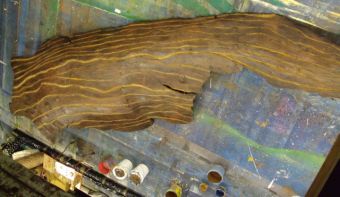 "There's always a cultural consultant on board, and there's always a process of discussion to make sure that we're doing everything right. So there's the cultural consultancy, then there's turning the image into a contemporary image, which Bangarra does so well.
"And we're lucky enough to go back to country normally, or where the story is from, discuss the work and meet with the elders and locals. Normally there's artists involved, so you have a really rich and diverse conversation about what the work is going to be.
"All of that really fills you up completely. So you come back here and you sit down and say, 'That was a really great experience. How am I going to do that?'
"But being an artist-in-residence, and being in the room here, you have such great conversations that, while you might not know where you're going to end up being, but you'll go on a beautiful journey. Usually the process will be initial conversations with the whole creative team, then you'll go through a process, and start to hear bits of music that are coming out of the studio, and get more images.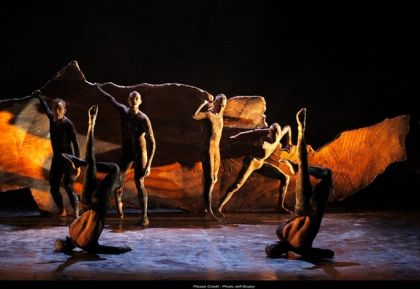 "Then you'll get to the first day of rehearsals and the set will have been designed and you'll hear the first few pieces of music. This is the first time that has really happened – you get a whole experience of sound, image, choreography and dance all under one roof."
Jacob Nash is one of Bangarra Dance Theatre's four artists-in-residence, along with Cathy Marika (cultural consultant), David Page (the composer of Belong) and Francis Rings (choreographer).
Belong tour dates: QPAC, Brisbane, July 1 – 9; Drama Theatre, Sydney Opera House, July 20 – August 20; Heath Ledger Theatre, Perth, Aug 25 – 28; Canberra Theatre Centre, September 2 & 3; IPAC, Wollongong, September 8 – 10 and the Arts Centre, Melbourne, September 16 – 24.
Top two images: Belong set in progress. Next three images - the bark which inspired the design for Artefact, the set in construction. Bottom image the Artefact design in performance (photographer: Jeff Busby).