A new CD, Memories: The Ultimate Collection, released on November 6, 2015, celebrates the career of Julie Anthony, one of Australia's great female vocalists. She made her career as a recording artist, theatre star, cabaret performer commencing in the 70s & throughout the 80s & 90s and is a multi-platinum selling artist selling over a million albums in her career.
Julie Anthony is among the most awarded of Australian entertainers. She was made an Officer of the Order of the British Empire (OBE) and a Member of the Order of Australia (AM), has been elected one of the "100 Greatest Entertainers of the 20th Century" and has been voted by her peers as "Entertainer of the Year" three times and "Best Female Vocalist" 12 times.
Her rendition of the national anthem, Advance Australia Fair is considered by many to be the greatest ever recorded, having been chosen to sing it at the opening of the Sydney 2000 Olympics, the opening of Government House and many other national milestone events.
JULIE ANTHONY
MEMORIES: THE ULTIMATE COLLECTION
CATALOGUE #FANFARE216
TRACKLISTING
01. China Blue
02. Burn For You
03. For Your Eyes Only
04. Here I Am
05. We Don't Talk Anymore
06. Have You Ever Been In Love
07. Perhaps Love
08. Hold Me In Your Arms
09. Lately
10. Some Enchanted Evening
11. Sometimes When We Touch
12. I Dreamed A Dream
13. How Am I Supposed To Live Without You
14. You Send Me
15. Truly
16. Time And Again
17. The Horses
18. It Will Always Be You
19. Memory / The Way We Were
20. Advance Australia Fair, featuring Human Nature, James Morrison, Sydney Philharmonia Choirs, Sydney University Musical Society & Sing 2001 Choir
SIGNED COPIES AVAILABLE TO PRE-ORDER FROM SANITY ONLINE NOW!
http://www.sanity.com.au/products/2303861/Memories_-_The_Ultimate_Collection_SIGNED_COPY
We also have signed copies of the album to give away when you subscribe to Stage Whispers, or give a gift subscription. Click here for more details.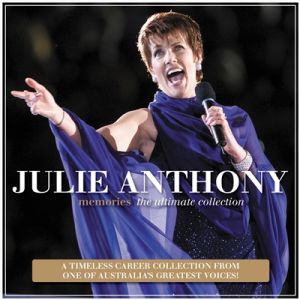 Q & A WITH JULIE ANTHONY
Julie Anthony recently an reflected on her career. How it began; the highlights; and what she is doing now....
HOW DID MUSIC SURROUND YOU AS A YOUNG GIRL?
Everyone sang in our family, as we worked or simply driving in the car....pick a harmony! Singing farmers, singing shearers, singing Julie!!!
DO YOU RECALL THE FIRST MOMENT YOU THOUGHT, "I MIGHT BE GOOD AT THIS SINGING CAPER".
I never thought about if I was any good. I simply loved to sing, although when I got the attention of a rowdy crowd at a prawn night in some RSL club in Sydney early in my career, I thought maybe I was doing something right!
YOU WERE A STAPLE OF AUSTRALIAN VARIETY & TALK SHOWS. HOW DID THAT START?
Well it was actually Ernie Sigley who saw me win a Television talent quest, and invited me to sing on his show, Adelaide Tonight every two weeks, so that I could learn the ropes. Mike Walsh was also very generous to all in our industry, as was the lovely Ray Martin.
ANY AMUSING STORIES FROM THOSE DAYS?
In this business, silly things happen on the half hour! If you go to lunch with a bunch of entertainers, it turns into dinner as stories are told amid howls of laughter...and they call it work?!!
THE "INDUSTRY" HAS CHANGED DRAMATICALLY OVER YOUR CAREER - ARE THERE "WORDS OF WISDOM" THAT STAND THE TEST OF TIME?
Jill Perryman once said to me 'just enjoy it all' ... how simple, but so wise. Work ethic is very important. Work hard, listen, watch and learn, and if it's meant to be, it will be.
WHAT ARE PROUDEST CAREER MOMENTS?
Oh boy, that's not as easy as you might think ... So many moments...
Opening night of my first musical 'Irene' ....phew!.... and the same again in London on the West End.
The Royal Command Performance in Sydney, looking up from the stage and seeing my Mum and Dad sitting a few feet from the Royal box, grinning from ear to ear.... Mum couldn't get over sitting so close to The Queen!!
This Is Your Life, when they put the whole population of my town, Galga, on a bus , you can imagine the rest!!
The fact that we produced our own show and toured 10 months a year for Years to great success, but actually had the best time with a team of musicians, dancers and crew that became like family , is quite an achievement in itself.
The Sydney Olymplcs was in a different bag...beamed around the world with this kid from the bush standing in the dark on the cauldron, waiting for the spotlight to hit, watching and listening to a very patriotic Aussie crowd roaring their approval as the horses and riders pounded around the arena, I could only think of Mum and Dad and Julie Lush and say 'here we go guys', the light hit, the crowd roared, I sang, and so did the Lush family....in harmony!!
YOU ARE REGARDED BY MANY TO BE THEIR FAVOURITE SINGER - WHO IS YOURS?
Ella Fitzgerald...the goddess of music! She was perfect in every way.
WITH THE SONGS ON THIS ALBUM, YOU HAVE WORKED WITH THE GREATEST - DID YOU ENJOY THE PROCESS?
In general, I did, but my preference is always to interact with an audience, take them away from the world for a time, make them laugh or cry or remember their life's moments, as I share mine with them.
In anything you do, always try and work with the best, they will bring out the best in you.
YOU ARE ONE OF THE MOST AWARDED PERFORMERS IN AUSTRALIAN MUSIC HISTORY - WHAT DOES THAT MEAN TO YOU?
Well, I never expected to get any reward for doing what I love and having such a good time!
IT WOULD BE HARD TO FIND ANOTHER ARTIST WHO HAS VISITED MORE PLACES THROUGHOUT AUSTRALIA - WHY WAS TOURING SO IMPORTANT?
To say thanks to the people who gave me a career, the people in Australia who came to the shows year in year out, who kept me on my toes. And when I had children, I could tour to suit their needs, we were so lucky there were so many venues to work.
DID YOU ENJOY IT?
I loved it, it was a mad, talented, touring bunch of minstrels in a bus!!
I'm from the country, and loved getting back out there with like minded country folk...we think alike...they get it!!!!
YOU RECENTLY RETIRED FROM THE MUSIC & ENTERTAINMENT SPOTLIGHT? WAS THAT AN EASY DECISION?
After 43 years, the suitcase and motel routine was wearing a bit thin, and so I decided to exit stage left while I was still able to. I left the farm to sing in Sydney, thinking I would stay a few months, enjoy the experience, and go back to the farm. Instead a whole new world opened up, and I went on this wonderful journey, this kid from the Mallee could never have imagined such a life, all because I loved to sing.
WHAT DO YOU ENJOY DOING NOW?
Pottering!! My daughters reckon I have perfected the art. I simply enjoy being at home, after all those years of touring. I cook and sew, and just roll with the day.