Alfred Hitchcock made the movie. John Buchan penned the book. Patrick Barlow wrote the stage play – and in July, the Pavilion Theatre at Castle Hill (NSW) raises the curtain on The 39 Steps.
Four actors, 30 characters and more plot twists than a box of corkscrews combine to create two hours of comic mayhem, as restless man-about-town Richard Hannay stumbles across a dastardly plot to smuggle secret military plans out of 1935 England. As his adventure unfolds he encounters a mysterious femme fatale, a Vaudeville entertainer, two shady policemen, a helpful milkman and an alluring fellow-traveller … and that's before he gets to Scotland!
'The 39 Steps is a theatre tour de force,' says director, Meredith Jacobs. 'It's one of the most elaborate, intricate and challenging productions I've ever worked on. It's also hugely entertaining. I'm so proud of the cast, who've fearlessly thrown themselves into this amazing production.'
The 39 Steps opens on July 27th and runs until August 18th. Performances are Wednesday, Friday and Saturday at 8.15 pm, Sundays at 4.30 pm. Tickets are $25.00 adult, $20.00 concession. Bookings can be made online at www.paviliontheatre.org.au, or at the box office on 9634 2929. The Pavilion Theatre is located on Doran Drive, Castle Hill Showground, Castle Hill.
Photographer: Chris Lundie
More Reading
Community Theatre Seasons 2012 - www.stagewhispers.com.au/community-theatre/community-theatre-seasons-2012
More Community Theatre - www.stagewhispers.com.au/community-theatre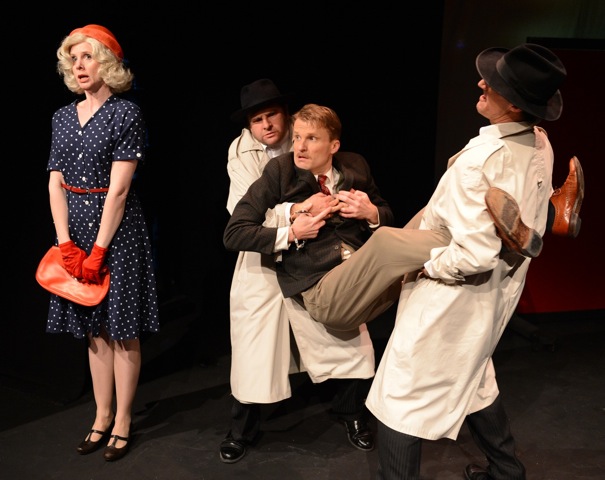 More Reading
Community Theatre Seasons 2012 - www.stagewhispers.com.au/community-theatre/community-theatre-seasons-2012
More Community Theatre - www.stagewhispers.com.au/community-theatre