A record number of participants attended the 56th Musical Theatre New Zealand conference in Rotorua during March. David Spicer reports.
Guest speaker was the legendary creator of The Rocky Horror Show, Richard O'Brien, who can be seen in fine form explaining how much he hates Opera in a special episode of Stage Whispers TV from the conference.
Rotorua is best known internationally for its extraordinary belching lava pools, sulphuric pong and hot baths. It also has a long history in musical theatre.
The Rotorua Musical Theatre Company recently celebrated its 70thanniversary. The company, like many in New Zealand, has its own theatre. It's a long building with a Spanish façade called The Casa Blanca Theatre. The company stages up to three theatre restaurant productions a year in its own venue and a blockbuster in the city's main Civic Theatre. The Casa Blanca also has set building facilities and costume storage.
Stepping inside, the madam of the foyer is the company's secretary Neila Blackmore. She proudly showed off a picture of her, a poster from Rose Marie staged in 1961, to Stage Whispers TV. "We were only the ballet and were over-ruled by the chorus ladies," she recalls of the production.
Musical Theatre in New Zealand appears to thriving. Last year member companies had 1,877 cast members for 84 productions. More than 150,000 tickets were sold to 62 productions. A challenge remains to attract youth. An MTNZ survey found that overall young people spend more time on the stage and less time helping to get the shows on. 66 percent of production crew are aged over 30.
Entertainment at the conference came from local school children performing a Haka and songs with a South Pacific flavour.
The grownups went fancy dress Las Vegas style at the main dinner.
For reasons that are not entirely obvious Rotorua is known in New Zealand as Rotovegas.
The next MTNZ conference will be hosted by New Plymouth Operatic in March 2017.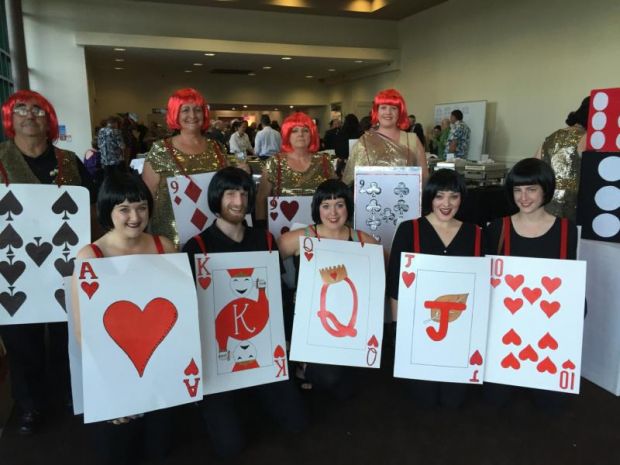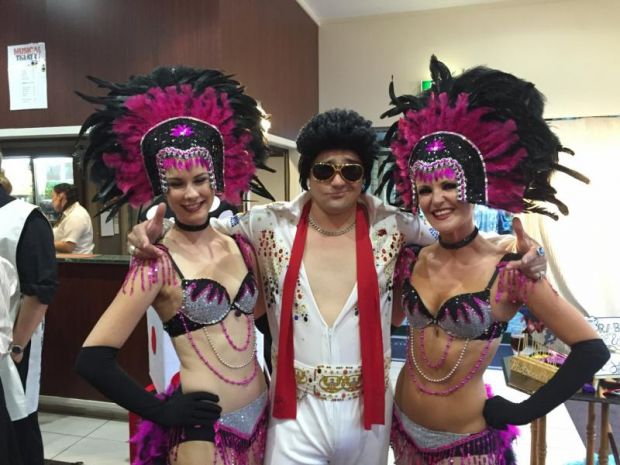 More Reading