WHAT happens when the members of a community choir find themselves trapped at gunpoint during a rehearsal?
The answer lies in Kate Rice's black comedy The Mozart Faction, directed by Siobhán O'Gara at Melville Theatre (WA) in April 2017.
A small suburban choir, known as The Cantus Formosus, has been performing in community halls for local groups and events for years – but their latest rehearsal comes to an abrupt end.
Wolf has lived next door for the past decade and has finally had enough of their singing so storms in with a gun, demanding silence.
In the siege that follows, Mozart's Requiem gains new meaning for all of them as Wolf forces each chorister to look death in the eye, bringing a range of character and personality types and their reactions into the spotlight.
The Mozart Faction premiered at the Blue Room Theatre in 2007 and won the theatre's people's choice award.
Kate Rice is an award-winning playwright currently completing her PhD at Curtin University on the ethics of creating theatre based on real stories.
"The choir represents all the community and theatre groups we know and have been involved with," O'Gara said.
"The play presents a cross-section of society brought together by a common love of music.
"We recognise the people and know the characters with their aspirations, conceits and shattered dreams."
The main challenge, according to O'Gara, lies in the fact The Mozart Faction is an ensemble piece.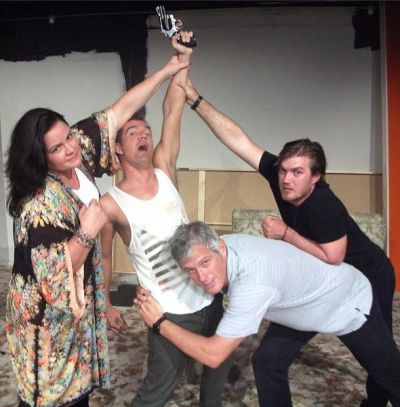 "It's important I am able to bring out and develop each character as required by the script," she said.
"Some of the more physical scenes require careful and thoughtful planning due to stage and space constraints.
"A particular challenge is getting the choir to go from sounding leaden and pretty terrible to sounding quite good in a 90-minute time span – something being tackled by our wonderful choir director."
O'Gara has a wealth of theatrical experience behind her, founding the Brisbane Irish Theatre Players in 1990, working with the Canberra Irish Community Theatre in the mid-90s and the Old Mill Theatre from 1998 as a director, stage manager and lighting and sound operator.
Since moving west, she has also co-directed After Dinner and Beyond Therapy at Playlovers and stage-managed Cat On A Hot Tin Roof and A Laughing Matter at the Dolphin Theatre.
In 2007 and 2012, O'Gara received best director nominations for Necessary Targets and Parramatta Girls at the annual Finley Awards.
"I saw The Mozart Faction at the Blue Room in 2007 and have had the script since then," she said.
"When Melville Theatre was seeking a locally-written play, the company was delighted to produce this one.
"I love black comedy and the question about what drives people, myself included, to join a community group – be it theatre, choir or sports – has always fascinated me.
"And I love Mozart's music. I stage-managed Amadeus a few years ago and this seemed like a natural progression!"
The Mozart Faction plays at 8pm April 8, 13, 14, 15, 20, 21 and 22 with a 2pm matinee April 9. Tickets are $20, $15 concession – book on 9330 4565 or at www.meltheco.org.au.
Melville Theatre is on the corner of Stock Road and Canning Highway, Palmyra.
Images: (top) cast members Victoria Dixon, left, Steven Hounsome, Briana Dunn, Callum Yardley, Daniel Wilson, Valerie Henry, Susan Veart, Elouise Martin and Karl von Zwol, & (lower) When a choir is held at gunpoint by Wolf (Steven Hounsome, second from left) in The Mozart Faction, members Evie (Victoria Dixon), Terry (Karl von Zwol) and Ari (Callum Yardley) spring into action.
More Community Theatre Reading