Licorice Allsorts, iPads and Cyndi Lauper aren't images usually associated with Gilbert and Sullivan's perennial operetta favourite, The Mikado – but the Gilbert and Sullivan Society has been turning Japanese in the strangest way for its next production.
Director Ric Trevaskis is hoping to create a very unique version of Japan for this production. "It's about creating 'our Japan.'" says Trevaskis, "When Gilbert first wrote the story it looked Japanese - Japanese was the fashion of the time - but it was always, as Gilbert's scripts always were, about England and English society. So in that sense, with our Anglo-Saxon heritage, it's about us - it's only pretending to be Japan."
The tone for this Japan is largely set by a new orchestration of the score by musical director Ross Curtis. The G&S Society's production will mark the world premiere of Curtis' orchestration. Trevaskis explains, "It makes the well-known music fresh. The orchestration is very witty and clever and a lot of fun, with shades of French cafe, Irish jig and The Sound of Music."
Ross Curtis agrees that fun is very much a focus of this production, "I've really enjoyed allowing the quirky to come to the fore by just allowing Sullivan to hint at different styles and genres and then dialling those hints up full."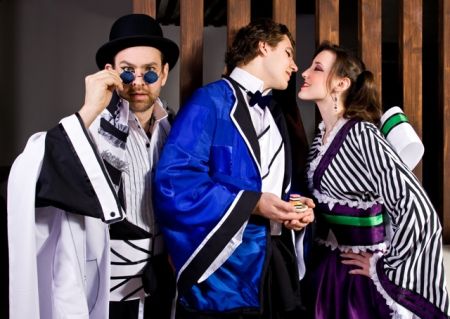 The powerhouse creative team is rounded out by award-winning production designer David
Lampard and choreographer Sharon Angove. "I am particularly excited by David's set and costume designs. David has given me so much to bounce off as a director and I'm always in awe of Sharon Angove's skill in physicalizing production concepts," says Trevaskis. "Really from my perspective it's a dream creative team, all of whom are quite uncompromising in the standards they aim to achieve, and all of whom have the knack of taking people along with them."
Gilbert and Sullivan's The Mikado opens at the Scott Theatre, University of Adelaide on 20 October 2011 for a limited season. Book at BASS or at www.gandssa.com.au
To keep up with the latest news and reviews at Stage Whispers, click here to like us on Facebook, or follow us on Twitter.