Birdie Productions invites audiences to journey under the sea as they bring to life The Little Mermaid from 13th - 22nd April 2018 at the Bryan Brown Theatre in Bankstown (NSW).
Based on one of Hans Christian Andersen's most beloved stories and the classic animated film, Disney's The Little Mermaid is a hauntingly beautiful love story for the ages. This fishy fable will capture your heart with its irresistible songs we have all grown up listening to, including Under the Sea, Kiss the Girl andPart of Your World.
Starring Jaime Hadwen (Muriel's Wedding) as Ariel, Tom Ragen as Prince Eric, Michele Lansdown as Ursula and Julian Kuo as Sebastian this show will recreate the timeless magic of this classic Disney tale.
This show is full of love, laughter, an evil octopus, a band of Mer-Sisters, a kooky crab, a crazy Chef and a beautiful friendship with a goofy Fish! Two best friends Ariel and Flounder are well known for their underwater adventures. Kai Lloyd-Jones takes on the role of the famous Fish, Flounder alongside Jaime Hadwen as Ariel. We sat chatted with Jaime and Kai and asked them all about this production, what the audience can expect and what bringing to life these sea-creatures has been like.
Q: Tell me a bit about yourself and your musical theatre experience...
JAIME: I grew up in central Queensland and moved to Sydney in 2011 to study musical theatre. I always had a passion for performing. From a young age I wanted to be on stage. Some of my favourite theatre experiences were playing Eva in Bring It On with Supply Evolution, playing Kira in Xanadu at the Hayes Theatre, produced by Matthew Management. Both of those shows I was able to learn a new skill; cheerleading and roller-skating. Also, the Bonnie Lythgoe Pantomimes were a dream to perform in. I played Cinderella in 2016 and Tinkerbell in 2017. The game changer for me was being cast in an Australian original cast of a new musical, Muriel's Wedding The Musical, produced by STC and Global Creatures. I loved being a part of something new and Australian!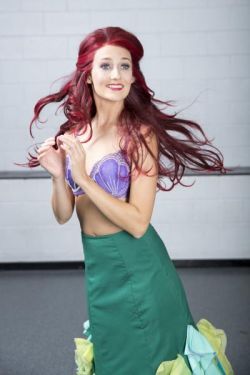 KAI: I'm turning 13 this year and I'm in year 7. I love singing and dancing. I take lessons at Ettinghausens at Kirrawee. I grew a love for musical theatre in 2015 and have been doing shows since. My most memorable is Kinky Boots. It was so cool to be working in theatre at my age and learning new skills that I never thought possible. I loved the moral of the show that taught the audience to just be who you want to be.
Q: How has the rehearsal process for Birdie Productions' Little Mermaid been?
JAIME: BUSY. We really only had 12 rehearsals to get this show up and going. Which in a professional setting is scary. However, the creative team have worked incredibly well and pieced together every rehearsal to create this puzzle. We have an amazing show all thanks to their efficiency and professionalism. The cast work so hard, some rehearsals we had 3 different studios in full use to get everything done in the hours we had.
Q: And Kai, have you had a good time in rehearsal?
KAI: Yes, Flounder is one of my dream roles. Everybody has been supportive and enjoyable to work with.
Q: Tell me a bit about your character. Do you have anything in common with them?
JAMIE: Ariel is a driven young lady. She is curious and stands up for what she believes in. Her curiosity and sometimes disobedience can get her into trouble. She is fascinated by the human world and collects any artefacts she can from under the sea to try to understand what the 'World Above' is really all about. I am similar in ways to Ariel. I too am driven and curious and I love an adventure. And, I collect sea glass from any beach I attend to. It is an addiction now.
KAI: Flounder is a cheeky, cute and goofy fish. Flounder and I are both a little goofy and some people think I'm cute.
Q: If you could be any of these characters in real life which one would it be and why?
JAIME: Scuttle is quite hilarious. I love his zest for life and his 'can-do' attitude.
Q: Has it been challenging embodying an under- the- sea character?
JAIME: Very hard. Ariel is physically one of the most challenging characters. I often forget I am 'under the sea' and have to remember to adjust my physicality. I went swimming nearly every day in the beach in January to start to develop Ariel's physicality. You have to feel light, gentle and feel like you're floating. Which is hard when you're standing and walking around on a stage...trying to swim. It is a challenge, but I am confident you will believe we are all underwater when you see the show!
Q: And Kai, tell us a little bit about how you are going to physically be a fish on stage... has this been challenging?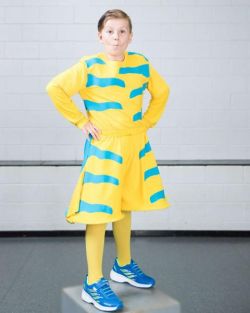 KAI: Playing a fish on stage is fun and also clever as I get to use heelys to give a swimming floaty effect on stage.
Q: What has it been like working with Kai and what can you tell us about the bond that Flounder and Ariel share?
JAIME: I am in love with Kai. He makes me tear up with pride, joy and awe when we do scenes together. We make each other laugh and also comfort each other. I have always been able to get along with children. I knew that Kai and I would have a great bond no matter what. But, I just adore him and I can't wait to see what his future holds.
Q: Kai, What's it been like working with Jaime Hadwen as Ariel? Have you gotten up to any mischief together?
KAI: Jaime is sweet and kind. She always encourages and supports me in my theatre career. Jaime and I haven't gotten up to much mischief but we do have a secret show-mance and work well together as Flounder and Ariel!!
Q: What do you think the show's message is?
KAI: To discover yourself and be who you really are.
Q: What do you think is something people take away from this show?
JAIME: They will walk out with a huge smile on their face firstly. This show brings so much joy to the audience. The show focuses on themes of friendship, adventure, family, longing and love. Everyone has their own path and journey in life and you have to let them discover it for themselves.
Q: What would be your message to anyone coming to see the show?
KAI: Prepare yourself for a fun colourful underwater adventure.
Join Kai and Jaime as they frolic under the sea together as besties Ariel and Flounder. The Little Mermaid will be playing at the Bryan Brown Theatre, Bankstown from 13th- 22nd April.
To book tickets head to: www.birdieproductions.com.au
Article prepared by Laura May Creative
Photographer: Grant Leslie.