Sydney Theatre Company and Global Creatures have announced that Australian actor Madeleine Jones will play the role of Muriel's best friend Rhonda in the world premiere of Muriel's Wedding The Musical. The production, a theatrical version of PJ Hogan's iconic hit film, updated to today by the writer himself, features original music by Kate Miller-Heidke and Keir Nuttall alongside those beloved ABBA numbers. The musical is exclusive to Sydney, playing at Roslyn Packer Theatre with previews from 6 November, opening on Saturday 18 November 2017.
The role of Muriel's BFF is an integral part of the Muriel's Wedding story and Madeleine was drawn to it because Rhonda is "fierce, fearless and a whole lot of fun".
"She knows who she is and what she wants and she's not afraid to tell it how it is. Then all of a sudden her world is turned upside down and her whole way of life is taken away from her. Rhonda has a massive journey and the challenge of playing a role like that is very exciting," Madeleine said.
Director Simon Phillips said: "It's great to have found our Rhonda at last. She's such a pivotal character in Muriel's story, seemingly the only person who lives a life uncluttered by self-delusion or self-esteem issues. I think the audience warm to her enormously as a kind of honesty barometer, and I know that in Madeleine we have an actress of great personality and charm, a perfect match for Maggie McKenna's Muriel and a wonderful addition to the cast overall."
Madeleine is looking forward to working with Maggie McKenna. "Working with Maggie for the first time felt more like playtime than an audition. There was an instant connection which made finding those initial sparkles of Muriel and Rhonda's friendship easy," she said.
It's a chemistry that Maggie also noticed during the auditions. "Madeleine is such a strong, talented and freakin' awesome woman. I definitely look up to her as a person and performer, so I think our dynamic is awesome because Muriel looks up to Rhonda too. I've always admired how incredibly beautiful their relationship is in the film," Maggie said.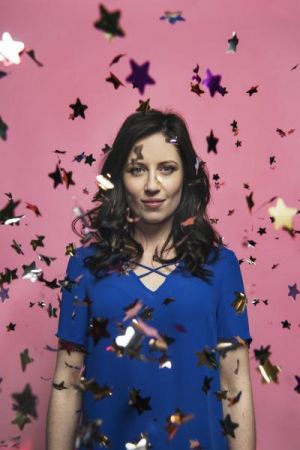 Madeleine recently played Patty in the QTC tour of Simon Phillips' Ladies in Black as well as Juliet in Romeo and Juliet and Ariel in The Tempest for Sport for Jove. She has played Sally Bowles in Cabaret and Jill Mason in Equus both for New Theatre. She won the Green Room Award for playing the lead role of Girl in the MTC/GFO production of Once.
Joining Maggie and Madeleine on stage are Justine Clarke as the long suffering Betty, with other members of the Heslop clan played by Briallen Clarke (Joanie), Michael Whalley (Perry) and Connor Sweeney (Malcolm), while Helen Dallimore plays the strangely ever-present beauty consultant, Deidre Chambers. Celebrating her marriage to Chook (Aaron Tsindos), Tania Degano is brought to life by Christie Whelan Browne, accompanied by a posse of bridesmaids, played by Manon Gunderson Briggs, Hilary Cole and Laura Murphy. Brice Nobes, the first guy to ever ask Muriel on a date, is played by Ben Bennett and Stephen Madsen is Olympic swimming hopeful Alexander Shkuratov. The 28-strong cast also includes Jaime Hadwen, Sheridan Harbridge, Mark Hill, Annie Aitken, Kaeng Chan, Tony Cogin, Adrian Li Donni, Caroline Kasper, Luigi Lucente, Kenneth Moraleda and Tom Sharah.
Director: Simon Phillips. Set and Costume Designer: Gabriela Tylesova. Choreographer: Andrew Hallsworth. Lighting Designer: Trent Suidgeest. Sound Designer: Michael Waters. Musical Supervisor: Guy Simpson. Musical Director: Isaac Hayward.
Sydney Theatre Company and Global Creatures present
Muriel's Wedding The Musical
Book by PJ Hogan,music and lyrics by Kate Miller-Heidke and Keir Nuttall
with songs by Benny Andersson, Bjorn Ulvaeus and Stig Anderson originally written for ABBA .
6 November 2017 to 27 January 2018
Roslyn Packer Theatre, Walsh Bay
Opening Night: Saturday 18 November at 7.30pm
Tickets on sale: www.sydneytheatre.com.au / 02 9250 1777.
Photographer: Nic Walker.