The World Premiere season of An Officer and a Gentleman at Sydney's Lyric Theatre will close on Sunday July 1, 2012 after just eight weeks of performances and previews.
Announcing the closure on June 10, Producers John Frost and Sharleen Cooper Cohen said, "It's been wonderful to get the overwhelmingly positive audience reaction to An Officer and A Gentleman and we now know what changes we'd like to make for future productions of the show," said Frost and Cooper Cohen. "It is only by putting a new work in front of audiences that we can test the response, and determine what changes need to be made.
"We'll now move An Officer and A Gentleman back into development, ahead of a possible tour of the US. We're thrilled to have received interest to mount productions of the show internationally, so are exploring our options for the next incarnation of this exciting project. We would like to thank our partners on the show, and the wonderful cast and crew who have worked tirelessly to create this World Premiere production."
An Officer and a Gentleman had its Gala Opening Night on May 18.
Our Earlier Coverage
An Officer and a Gentleman Launched
Chat with Kate Kendall and Alex Rathgeber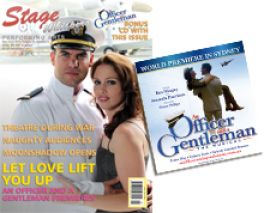 Receive a FREE An Officer and a Gentleman The Musical Sampler CD with the current print edition of Stage Whispers.
The disc features five songs and three bonus music videos from An Officer and a Gentleman the Musical. Ben Mingay sings I'm Gonna Fly, Amanda Harrison sings If You Believe in Love the Way I Do and Wings of My Own, Josh Piterman and the company sing Halfway and Ben Mingay, Amanda Harrison, Alex Rathgeber and Kate Kendall sing Up Where We Belong.
Buy a copy or subscribe at www.stagewhispers.com.au/products
More details about our current edition -www.stagewhispers.com.au/news/our-amazing-print-and-first-ever-e-edition