Every 41 seconds someone in the world must begin to face the reality that a loved one has committed suicide. Lesley Reed previews 41 Seconds, a 2018 Adelaide Fringe production presented by Talk Out Loud Australia.
Eight people are lost to suicide each day in Australia. Across the world, such a death happens every forty seconds. Yet the devastation doesn't stop there. Families and friends must deal with lifetimes of facing the reality of their loss. Few of us are left untouched by such tragedy, including Mary Galouzis, whose sixteen-year-old brother suicided in 1990, just four days after her wedding.
Mary believes we must now talk out loud about such tragedies. Some silences are meant to be broken and this sentiment is the vision at the heart of Talk Out Loud Australia, a support group she established in 2016.
'Talk Out Loud helps to break the stigma of discussing youth mental health and suicide and empowers young people to seek assistance and connection with other like-minded young people and mental health professionals,' Mary said.
2016 was also the year a play Mary was writing about the tragic fallout from youth suicide was registered by her for its first Fringe Festival.
'It all began when, forced to rest after a bout of pneumonia, I decided to cross off another item from my bucket list and finally register,' she said. 'At that point all I had was a few pages of notes and a title, although the vision was far larger. I must thank the original (2016 Adelaide Fringe) cast who were so patient and flexible as I continued to make amendments to the script until production week itself.'
The play is based on excerpts from Mary's late brother's diary, together with her own journal, other people's suicide survivor stories, plus the culmination of hours of reading and research. The title, 41 Seconds, starkly denotes the reality- that in the single second beyond every suicide another group of family and friends must start the shattering process of facing life without a loved one, including all the conflicted emotions that death by suicide invariably leaves as its legacy.
Playwright Mary Galouzis also directs her play and believes it is groundbreaking theatre. It clearly holds a special place in her heart, due to her own life-changing experience.
In this compelling one hour production the audience is invited into the lives of a diverse group of family members and friends who are coming to terms with the sudden death of twenty-two-year-old Nick. The best and the worse of each member of the group is exposed by the death. Forgotten truths are revealed and boundaries are tested. Grief is uniquely explored in this collection of conversations, monologues and original music, with stories that will surely make you both laugh and cry. The play has evolved since 2016 and is now presented slightly differently.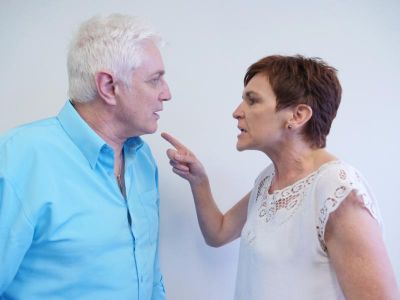 'I wanted to write something from the perspective of those left behind,' Mary said about the play's narrative. 'I cannot begin to fully comprehend what goes on in someone's mind up until the moment they take their own life, but I do know first-hand what it feels like to be left behind. In short, 41 Seconds examines the concepts of suicide, grief and loss from many different perspectives; perspectives that challenge the stigma associated with mental health and suicidal ideation and equally so, it challenges the perception of the grief process after the suicide of a loved one. I don't believe you ever quite get over it; you learn to live with the pain and mask what you are intrinsically feeling on a daily basis until it becomes your 'new normal'. With suicide, I've always described it as the tide - just when you feel safe, it drags you back in and sometimes quite violently. Sometimes you feel like you're drowning. Essentially each character symbolises my own grief journey.'
Interspersed through the play are four monologues, telling real-life stories after interviews were conducted with individuals about mental health and suicide.
'I felt that audiences would engage more with the characters by hearing actual life stories,' Mary said. 'One of the monologues is from the perspective of the detective who shares his anguish after delivering the devastating news. We often don't give the first responders a second thought.'
As in real life, each family member or close friend reacts quite differently in the play, with life as they knew it before changed forever. 'Relationships dissolve before your eyes,' Mary said.
Some of the performers are actors, but others are volunteers at Talk Out Loud, Mary's support group. One of these volunteers is Kara Harding, who plays a very complex character in Nick's girlfriend Chloe. In addition to Kara, the cast includes Anthony Von Der Borch (Nick), Stefanie Rossi (Hannah), Marc Clement (John), Brad McNamara (Logan), Denise Alexander (Denise), Graham Browne (Glenn), Erin Moran (Ella), Cassandra Cook (Jess), Mathew French (Matt), Brooke Miller (Briony), Phillip Amato (Detective), Jess Cutting (Teacher), Jack Peters (Will) and Stacey Mousley (Sarah).
'Rather than separating the play into stereotypical acts and scenes, these are real stories from real people,' Mary said. 'We've had many rehearsals where we've been in tears.'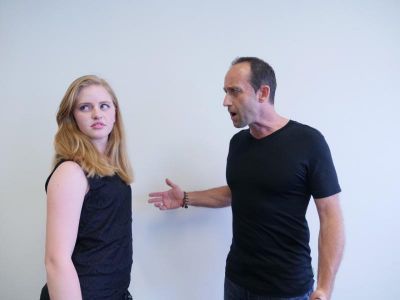 The production also has a powerful finale, the unique details of which won't be revealed here, but it is intensely moving theatre indeed.
'After the Fringe Festival, I am planning to take 41 Seconds into regional communities and schools,' Mary said. 'Whyalla will be our first stop. I would love to see schools and communities working more closely together by including arts programs as a means of engaging youth and reducing the stigma associated with youth mental health and suicide.'
Males are three times more likely than females to take their own lives and one in five adolescents experience depression by the time they reach eighteen.
'With over thirty years' experience in the education system, I have seen how much young people struggle on a daily basis,' Mary said.
'The wounds suicide leaves in the lives of those left behind by it are often deep and long lasting,' Mary added. 'I have offered this play in the hope that anyone who has been affected by suicide might be able to relinquish their guilt and anger and find closure. Despite the abrupt way you may have been left, guilt and anger do not have to be the only two emotions you're doomed to feel. This play is also dedicated to those currently struggling with a mental illness; that you may find the hope and courage to share your story also.'
Sure to be the talk of the Adelaide Fringe, this compelling production will hopefully also stir audiences to leave the show determined to talk out loud about suicide prevention. Because some silences are meant to be broken.
WHERE AND WHEN:
Golden Grove Arts Centre 7pm March 9
The Bakehouse Theatre 6pm March 14-17
TICKETS:
https://www.adelaidefringe.com.au/fringetix/41-seconds-af2018
For information about, or to contact Talk Out Loud Australia: