In This Edition
What A Drag!
With hit Aussie musical Priscilla returning, we look at drag on our stages
American Idiot's Whatshername
Phoebe Panaretos on Green Day's American Idiot, now touring
Our 'New' Jersey Boys
Australia's Four Seasons prepare for the new national tour
Impossible Play Becomes A Hit
The Curious Incident Of The Dog In The Night-Time arrives down under
Community Theatre Seasons 2018
Our Community Theatre Champions and the year of local theatre ahead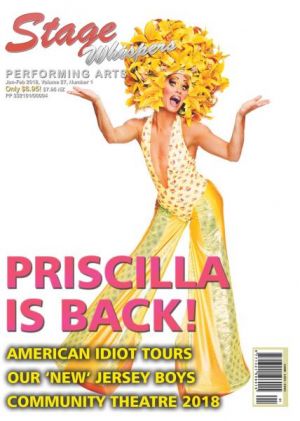 Awards Season
Wrap up from the CONDAs, Palmies and Music Theatre Guild of Victoria
2017 Schools Spectacular
How 5,000 state school student performers converged on Sydney
AND MORE
Including
• Broadway and West End
• Books
* Sound and Lighting
* Schools on Stage
• What's On
• Reviews
Buy individual copies online at
www.stagewhispers.com.au/products
or at your newsagent.
Subscribe to Stage Whispers print edition for one year or more and receive a free Double Pass, CD, DVD, Blu-ray or script.
As some stocks are limited, please nominate 3 choices.