IN THIS EDITION
Our New Boy From Oz
Rohan Browne steps into the role of Peter Allen.
Canadian Mormon Star Steals Aussie Heart
The romance of Musical Theatre's Ryan Bondy and Hilary Cole.
Our Master Storyteller
Our interview with playwright Alana Valentine.
Strictly Fernando
Australian Fernando Mira's international journey in Strictly Ballroom.
Theatre Jewels of Western Australia
W.A. Reviewer Kimberley Shaw shares her favourite theatres.
Breathtaking Theatre
Strut & Fret, our internationally successful independent theatre company.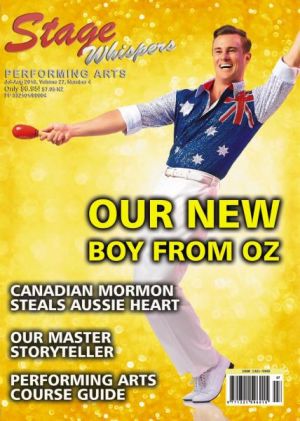 Performing Arts Course Guide
Courses across Australia for performance and backstage careers.
Rockdale Opera Turns 70
A suburban company and the Opera stars it has fostered.
AND MORE
Including
• Broadway and West End
• CD Reviews
* Sound and Lighting
* Schools on Stage
• What's On
• Reviews
Buy individual copies online at
www.stagewhispers.com.au/products
or at your newsagent.
Subscribe to Stage Whispers print edition for one year or more and receive a free Double Pass, CD, DVD, Blu-ray or script.
As some stocks are limited, please nominate 3 choices.