Arts Centre Melbourne will present a comprehensive Summer Season from December 2012 through February 2013, its first for many years. Summer at Arts Centre Melbourne will feature a program of local and international theatre, dance and live music performances and activities.
The theatrical highlight, the much anticipated Australian premiere of War Horse, is set to inspire other artistic and exhibition spin-offs, amidst a variety of theatrical and musical events.
"For the past couple of decades, we've talked about our shows and programs individually rather than putting it all together under one banner," said Chief Executive Judith Isherwood. "So this year, we have actively curated the summer season so that there is a wide range of top quality experiences for a wide range of audiences. We've taken a helicopter view of the work we ourselves want to present, put it alongside the work that others bring, filled any gaps, and wrapped it up to make it easier for everyone else to be in the frame.
"So when you need a break from the beach – whether it's to get out of the sun or escape a cloudburst, whether you've got family and friends visiting, the kids are driving you mad, you're over the cricket or the tennis, or you have a hot date and want to take them to the coolest stuff in town – head in our direction because we're open every day and night of summer except Christmas Day!" said Ms Isherwood.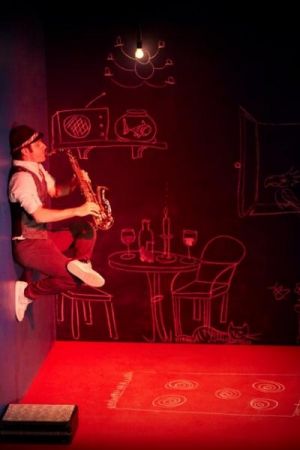 The arrival of shows at the Sidney Myer Music Bowl is one of the first signs of summer at Arts Centre Melbourne, and this year the Bowl is gearing up to host a genre- and generation-defying program from orchestra performances and iconic family events to electronic music festivals and concerts from some big names in contemporary music, including Gotye, Vision Australia's Carols by Candlelight, Summadayze, Weezer, Australia Day Concerts and the Sidney Myer Free Concerts with the Melbourne Symphony Orchestra.
Arts Centre Melbourne's theatres will come alive with international productions direct from London and Europe including the multi-Tony and Olivier Award-winning theatre production War Horse, opening its highly anticipated Australian premiere season on December 31. Read more about War Horse.
The Fairfax Studio will feature the surreal one-man physical theatre show Leo from Berlin-based Circle of Eleven; European street theatre performers, D'Irque and Fien, performing their kids and family show Oh Suivant!; and MTC's Constellations, by British playwright Nick Payne, directed by new Associate Director Leticia Cáceres in her MTC mainstage debut.
The Playhouse is home to two children's shows: Justine Clarke's Pop Up Tour 2012 from Australia's foremost female children's entertainer, and Giggle & Hoot which will bring ABCTV characters on stage including Jimmy Giggle, Hoot the Owl and their best owl pal Hootabelle. There is also the Australian premiere of the decidedly adult Off-Broadway hit My First Time about first sexual encounters, together with the Australian premiere of MTC's The Other Place by Sharr White, directed by multi-award-winning film and theatre director, Nadia Tass and starring Catherine McClements and Philip Quast.
More details about MTC season including Constellations and The Other Place.
To celebrate the arrival of War Horse, Arts Centre Melbourne will present War Horse and the Breath of Life, a new major exhibition developed with The National Theatre of Great Britain which will bring together the best elements of the National Theatre's exhibition Staging War Horse with contemporary Australian puppetry from Art Centre Melbourne's Performing Arts Collection and Melbourne's physical theatre companies.
Also taking inspiration from War Horse is Big Horse, a four metre-tall flower-covered horse sculpture which will be constructed by artist Amanda King with the help of kids and families on the Forecourt in January, and LetterBox, a series of writing workshops where they can research, edit and write letters to home, which will be displayed around the building.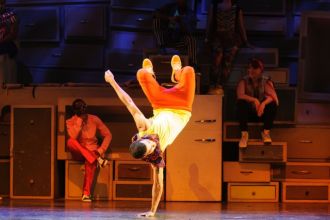 Hamer Hall will be a drawcard for locals and visitors alike with performances David Byrne and St. Vincent, the electrifying streetdance production Blaze The Show, and the Key of Sea, a concert that will feature unique pairings of established Australian artists with emerging talent.
Other performers to hit the stage will be Human Nature who are returning for Christmas for concerts with the Melbourne Symphony Orchestra, and trumpetvirtuoso James Morrison who will open the 2013 season of Morning Melodies. Other highlights include theVictorian Opera Gala farewelling Richard Gill, theAustralian Pops Orchestra who will play in the New Year with a night of classics, and the Australian Chamber Orchestra, who will open their 2013 Season with Richard Tognetti performing Mozart and Electric Preludes, a new work by Brett Dean.
Hamer Hall will also be home to Riverside Live, a new program of events starting in October across Thursday and Friday lunchtimes and Friday and Saturday evenings, including free concerts, dance workshops and public debates with prominent Melbourne performers in the public spaces and foyers.
Tickets for all Arts Centre Melbourne Presents shows will be on sale at 9am tomorrow Wednesday 19 September. For more details visit www.artscentremelbourne.com.au, phone 1300 182 183.
Images: War Horse - London Cast. Photography: Brinkhoff-Mogenburg. LEO by Circle of Eleven. Photographer: Andy Phillipson. Blaze. Photography Roy Beusker