Directed by Gene Peterson. The Q, Queanbeyan Performing Arts Centre. 31 March – 2 April, 2015.
A modern circus, 360 Allstars is an appropriate name for these guys because they turn 360° a lot. On a BMX bike, in the centre of a huge hoop, on their heads with their legs straddled, the Allstars will leave you dizzied. What links the four acrobats, two musicians and Basketball Man is their virtuosity. Each one of the team is at the top of their field. As a modern circus performance this was as slick as it gets.
Sam Perry creates an orchestra using nothing but his voice, a loop station and an effects peddle to create everything a capella on stage live, from vocal percussion break-beat to hypnotic ambient, from dubstep and rap to haunting Gregorian-style vocal harmony. After adding each live recorded loop to the mix, he perfectly synced a pre-recorded video segment.
Director of the show and fellow musician Gene Peterson on the drums is equally phenomenal. One routine involved accompanying himself on keyboards with his left hand while he performed complex rhythms with his right.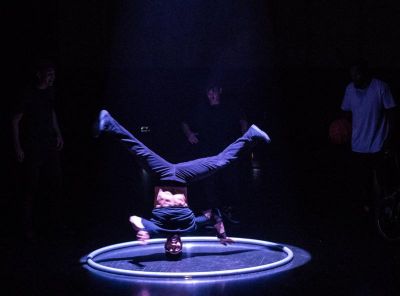 Basketball Man (Rashaun Daniels) mixed Harlem Globetrotter-style freestyle basketball with juggling and clowning. Peter Sore, a professional Hungarian BMX Flatlander had the audience gasping with amazement as he virtually danced with his machine. Rhys Miller performed an extraordinary routine in a custom-built metal hoop called a Roue Cyr Wheel, a circus equipment that looks based on Leonardo's Vitruvian Man. Finally, B-Boys Kareem and Leerok. Kareem's strength and balance, and Leerok's flexibility and speed were breathtaking. Leerok in particular could easily have had a career as a world class gymnast.
Perhaps the graffiti aesthetic in the set comes across as an attempt to be cool, and honestly, these guys do not need to try. If they're going to use street art, make it someone like Urban Cake Lady or Elk (Andrew Cornish), whose skills are up with the troup's. There was also an issue with the lighting at the beginning when low, extremely bright lights shone right into the faces of the audience. Clearly they were after an impressive silhouette effect, but instead we were completely blinded. This may well have had something to do with the limited stage space at the Q, but it's maybe something they need to test and adjust before each new venue. It was also a bit of a boys' own show—I would have liked to have seen some female performers of similar skill.
That said, this was a fantastic display of athleticism, grace, poise, balance, and some of the million ways it's possible for a human body to spin.
Cathy Bannister
Images: (top) Photographer: Alena Velikova and (lower) Hooplight. Photographer: David L Bostedor III