By Arthur Miller. Newcastle Theatre Company, Lambton. Directed by Janet Nelson. April 27 – May 11, 2013.
NTC celebrates 55 years of community theatre in the Hunter region this year. Their third production is Arthur Miller's first Broadway smash – All My Sons.
Set immediately after WWII, the plot initially revolves around the Keller Family and their reluctance to move on three years after their son Larry was declared MIA. Their other son, Chris, has hopes to marry Larry's former sweetheart, Ann. All that seems to stand in their way is his parents' refusal to accept that Larry won't be coming home. What starts out as a poignant but simple premise soon gives way to chaos as one by one, family secrets are revealed and the Great American Dream turns into a nightmare. It's a wordy script that crackles along with tension that builds to an emotionally-charged climax, leaving the audience in need of a big hug at the end.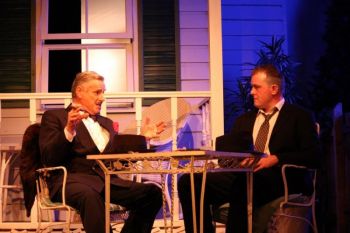 Firstly, kudos to set-designer Graham Wilson – his scaled-down, authentically recreated neighbourhood backyard provided a perfectly innocuous-looking background upon which such overwrought drama could sneakily unravel. Each of the ensemble cast enjoys some fine moments individually, but extra praise needs to be heaped on the four main characters. The role of Joe – the proud father with everything to lose – is demanding and relentless, and Howard Rawlinson attacks it with the kind of passion one reserves for a role for which they'd been waiting their entire life. He carries the play on his back and never buckles under its weight. Alex Jacobs is quietly irresistible as Chris and despite a tendency to race through his dialogue without any pauses, he really comes into his own when the emotional stakes are raised and instinct takes over. Tracey Owens draws us in with her thoughtfully nuanced, highly sympathetic portrayal of a devoted mother in denial, while Amy Wilde embodies the era with her striking looks and delivers as focussed a performance as I've seen on any professional stage.
Peter Murray has the unenviable task of entering the fray in the second act, after everything has already started to unravel, but he hits the ground running. Jen Masson's 'smiling assassin' approach to the character of Sue (the neighbour with her own dark agenda) also proved surprisingly effective. You can't merely tinker demanding, iconic material such as this, without conviction. Janet Nelson has done a commendable of pushing her cast, while simultaneously keeping them reined in. The dedication required from the entire crew to bring this production to life has done NTC proud.
Rose Cooper
Photographer: Debra Hely