By David Williamson. Pursuit Productions, Director: Glen Hamilton. Producer: Michelle Neil. Lighting & Sound: Tilda Sathida Featuring Phil Kachoyan, David Nealon, Michelle Neil, William Maher, Celine Oudin, Atlanta Webster and Divya Rajagopalan. The Old 505 Theatre, Surry Hills. 11-14 July, 2012.
It's a war out there
The Nineties was the golden era of the 'corporate family', when companies worked hard at gender and ethnic blindness and at being inclusive and supportive. Siddons Residential is such a company. They have a resident Equal Opportunities Manager and a freshly minted HP Manager who advises employees to 'listen for your song'. But all is not well in this corporate kingdom, because the king, or, in this case, chairman and founder Sam Siddons, is unhappy about falling sales and rising levels of political correctness. The vibes in this company do not ring his bell. He believes business is like warfare and the weak must be sacrificed to nurture the strong. So, some people must go, but he cannot despatch them. That's HRs job.
This is the perfect set-up for a rollicking screwball comedy, where the characters don't realise the ridiculousness of their situation and struggle to treat their labours seriously. David Williamson knows how to write a powerful script that delivers drama and comedy through the errors of his characters. He structures a plot that leads them through intolerable situations towards a degree of enlightenment.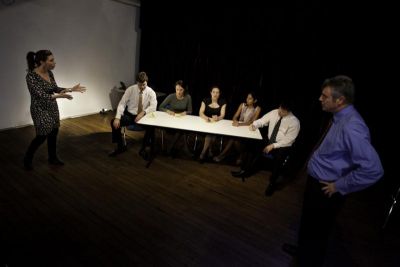 With Williamson, just follow his script and you really can't go wrong, although many have. But this production delivers the pace, straight faces, quirky character traits and continuous movement required to stoke this script for maximum heat. This is a very funny play, played well.
The Old 505 Theatre is a quirky venue that is really a concrete box with minimal tech. It's a great place to test clever devised productions that should go forward, such as The Grief Parlour. And it's a place for emerging theatre companies to develop their skills with Australian standards.
With minimal set, lights and sound, seven actors fast track their way through this play and keep their audience laughing and clenching their teeth all the way to the not so surprising conclusion. This was an enjoyable night out.
Stephen Carnell
Photographer: Glenn Lockitch