By Mozart. Opera Australia. Director: Sir David McVicar. Revival Director: Andy Morton. Conductor: Keri-Lynn Wilson. State Theatre, Arts Centre Melbourne. May 18 – 25, 2019.
I am often disappointed at performances of the Mozart operas when the singers don't understand the refinement required for this style of singing. This cast had it in spades! The singing was refined and beautiful, and the balance between the voices impeccable.
This was particularly noticeable in the famous trio, "Soave sia il vento". I don't recall hearing a better.
Jane Ede was a feisty Fiordiligi, determined not to give in. The difficult "Come Scoglio" was handled with ease. Anna Downsley was the flighty Dorabella, quite excited at the prospect of a new love.
Taryn Fiebig has a heavier voice than one would usually associate with Despina, but her comic timing was a constant delight. Belarusian tenor, Pavel Petrov, was the only non-Australian in the cast and impressed with his bright, young tenor voice.
Ever reliable Samuel Dundas was a rich voiced Guglielmo, while it was good to have a real bass, Richard Anderson, singing the elderly Don Alfonso.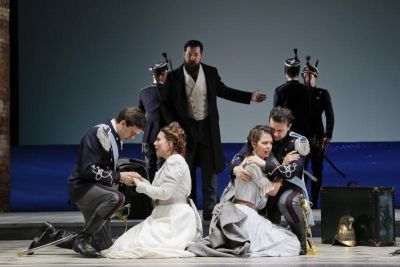 The constantly evolving set was impressive, with parts coming in from the side and down from the flies, so scene changes were quickly achieved. The tempos were on the brisk side, but often there were long pregnant pauses in the recits, which were very effective.
The score of Cosi Fan Tutte gives no indication of which girl the boys are paired off with at the end. In this instance, it was the girls they'd chased in disguise, and Guglielmo made no secret of his displeasure.
This was a wonderful night at the opera.
Graham Ford
Photographer: Jeff Busby.