By Nick Dear. Ensemble Theatre Production. Director Mark Kilmurry. Original music by Elena Kats-Chernin. Street Theatre, Canberra, May 7 – 11, 2013, then touring to various venues through Victoria, Tasmania, Qld and NSW, finishing in Wollongong on August 10.
Frankenstein, based upon Mary Shelley's classic gothic tale, is a daring and confronting re-imagining that fills the senses. In this 110 minute, one act play, the emotions, morals and empathy of the audience are held captive in silence and awe.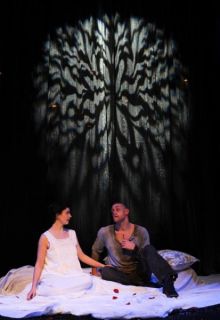 The play begins with the birth of Frankenstein's creature. A cello plays, light and sound catalyse the breath of life, and the creature discovers his world, not as an infant but as a fully-formed adult. We are brought into his confusion and fright, his hopes and despair by Lee Jones' magnificent acting. The creation scene's amazing physicality will remain in my memory for a long time.
The play covers familiar territory but includes a greater emphasis upon the philosophy and morality of creating an adult creature and the ownership of life than we might be accustomed to, after watching television and film versions which water down such ideas.
Yet it is not all doom; the creature finds humour, desire and joy. Andrew Henry, who plays Viktor Frankenstein, shows his fear fighting with the desire to discover and create. Katie Fitchett plays the dual roles of Elizabeth, Frankenstein's fiancée, and the female creature made by Frankestein on the desolate Scottish island. Her performance is a stand out.
Under the direction of Mark Kilmurry, all cast members add to the value of the production, both in their role(s) and stage movement. Brian Meegan, Michael Rebetzke, Olivia Stambouliah and Michael Ross are excellent in their many roles.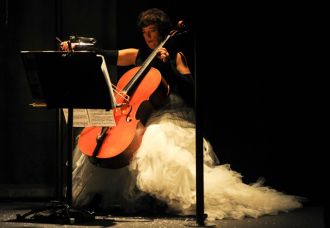 The empathetic and virtuosic cello playing is by Heather Stratfold, whose part is equal to any cast member.
The designer is Simone Romaniuk, whose simplicity of design with curtains, light and darkness makes for a space where the imagination and the cast may play. Lighting design is by Nicholas Higgins, accenting mood without overpowering it and drawing us into this modern gothic tale with its lightning, flames, and dim rooms.
This is a magnificent, yet confronting production and definitely a must-see.
Rachel McGrath-Kerr
Images: Andrew Henry as Dr Frankenstein and Lee Jones as The Creature; Katie Fitchett as Elizabeth and Lee Jones as The Creature & Heather Stratfold (Cello) in FRANKENSTEIN. Photographer: Heidrun Lohr