By Arnold Ridley. Genesian Theatre, Kent Street, Sydney. September 22 – October 28, 2018.
You may remember Arnold Ridley as Private Godfrey, the gentle, old medic in the British comedy series Dad's Army, but as well as an actor, he was also a prolific playwright. Of his 19 plays, the best known is The Ghost Train, written in 1923 after Ridley was stranded overnight during a rail journey through Gloucestershire. The play has a long history. Its initial production ran to sell out houses at St Martin's Theatre from 1925 to 1927. It has been adapted for many film versions, the first a silent film in 1927. An audio version of the play was recorded as late as 2010.
Why? Because it's a great example of a comedy suspense thriller! And director Stephen Lloyd-Coombs, with his Genesian cast and crew, have really done it justice. His production highlights the melodramatic aspects of the writing by focusing on the 'stock' nature of the characters and the use of timing, pace, pause, freezes, vocals, tableaux and innuendo. For anyone studying melodrama – or anyone who values precision acting – it's a must see.
The play is set in the waiting room of an isolated railway station, where a diverse group of travellers are stranded for the night. Though the station master tries to persuade them to leave, there is nowhere for them to go, so they decide to stay, despite his warning that the ghost of a train wrecked in the area sometimes haunts the line – killing anyone who sees it. Naturally, this leads to a variety of dramatic incidents – and revelations – as well as the climaxes and anti-climaxes one expects of a comic thriller.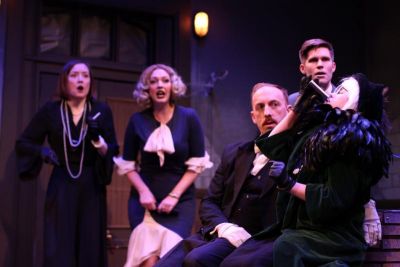 Designer Ash Bell has given attention to detail in both her costumes and set. The costumes feature the colours and elegance of the 1920s – and the characters wear them with style. The dusty railway station waiting room in which they are trapped typifies the period, with slatted wooden seats, frosted windows, all very brown and dingy. Michael Schell accentuates this with eerie lighting effects and the spooky rumbling approach of the ghostly train.
Mark Langham plays the station master … and a more sinister character. His station master is suitably frustrated and anxious to lock up and get home, his local burr a contrast to the upper-class accents of the stranded travellers. As the stranger who arrives later in the play – accompanied by his equally sinister off-sider, Dr Sterling, played by Elizabeth McGregor – he is menacing and threatening.
Zoe Crawford and John Willis-Richards are Elsie and Richard Winthrop, whose marriage is falling apart. She is a 1920s feminist, determined and proud and Crawford uses her height and elegance to accentuate the character's sang-froid. Willis-Richards plays up Winthrop's officious, over-bearing self-importance with arrogant gestures and repetitious phrases.
Newly-married Charles and Peggy Murdock are played with sustained energy and zeal by Kieran Foster and Nicole Wineberg, he finding the guileless passion of the protective bridegroom, she the naïve, wide-eyed innocence of his flapper bride. Both use pace, pause, gesture and pose extremely effectively.
Lib Campbell plays Miss Bourne, the over-wrought spinster travelling alone – and a young girl, Julia Price, who is really someone else in disguise. In all three roles, Campbell is exceptional, but as Miss Bourne she is an audience favourite, using posing and declamation in the hilarious ways.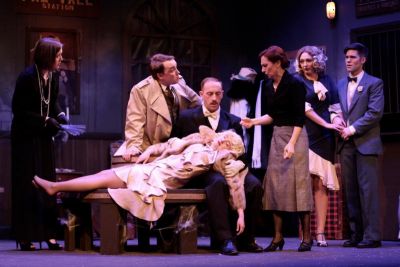 Tristan Black almost steals some scenes as Teddie Deakin – but that's what Deakin is supposed to do! He's the person who has caused them to miss their connection by losing his hat, and is the hail-fellow-well-met type who is brash, voluble and over-confident – and Black does him to a 'T'. His Deakin is energetic, blustering, impudent, almost unnecessarily so … until the last few scenes when he reveals who he really is!
There are lots of special moments and on-going gags in this cleverly directed and precisely
performed production. Elsie Winthrop's unlit cigarette; Miss Bourne's birdcage; Peggy Murdock's suspenders; Teddie Deakin's brandy flask; doors that won't open; Julia Price's transformation; some classic tableaux.
Stephen Lloyd-Coombs has given this ninety five year old classic the energy and panache it deserves. It's fun, entertaining and beautifully performed.
Carol Wimmer
Photographer: Ash Bell.