By Peter Quilter. Christine Harris and HIT Productions. Riverside Theatre Parramatta. September 5 – 9, 2017, and touring.
Director Denny Lawrence and HIT's production of Glorious hits all the high notes that Florence Foster Jenkins misses! It is slick – and as colourful as Foster Jenkins herself.
Diana McLean carries the leading role with all the grandeur and eccentricity of the 'diva' herself. She sweeps through velvet curtains with confident aplomb; captivates her acolytes with buoyant charm; and 'sings' with all the happy, self-assured delusion that took Foster Jenkins to Carnegie Hall. McLean makes this part her own. She inhabits the character, finding the strong self-belief that sustained Foster Jenkins and the charisma with which she beguiled her friends and her audiences. Not an easy thing to do so soon after Meryl Streep, but McLean does it with style, making the most of the humorous asides in Quilter's economic script.
Quilter uses Cosme McMoon, the young pianist who rises in status to become a devoted accompanist, to tell Foster Jenkins' story and Mitchell Roberts does so with cool poise. He moves and speaks elegantly, finding the 'style' of 1940s in an engaging and convincing performance that takes McMoon from initial incredulity to loyal and devoted friend.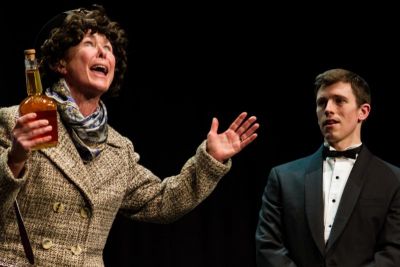 Felicity Soper takes on the roles of three very different women in Foster Jenkins' life. As Maria, the Spanish-speaking maid, she is wildly voluble. As Dorothy, loyal disciple and friend, she is expressively supportive. As Mrs Verrinder-Gedge, she is critically censorial. Soper carries the quick changes of character, costume – and wigs – with the ease of experience and skillful comedic timing.
Designers Sophie Woodward and Jacob Battista have captured the 'ritz' of 1940s New York in both their set and the detail in their costumes. None of that is easy for a touring production, especially one that has to take the audience from classy apartment to classy concert stage, but though the settings have the necessary suggestions of luxury, the set changes are smooth and effective. The costumes are carefully tailored to mirror the elegance of the period – and the extravagant excessiveness of Foster Jenkins' concert wardrobe.
This production brings together perceptive direction, creative design and sensitive characterisation in a play that is warm, humorous – and just a little discordant!
Carol Wimmer
Images: CHRIS fotographik