Book by Mark O'Donnell and Thomas Meehan, Music by Marc Shaiman and Lyrics by Scott Wittman and Marc Shaiman. Matt Byrne Media, Arts Theatre, Adelaide and Shedley Theatre, Elizabeth, July 5-28, 2012.
Adelaide missed out on the professional tour of Hairspray.
With such a void to be filled, enter director/producer/actor Matt Byrne with a vibrant, joyous, exciting version of the classic show.
He said his production was based on John Waters' original 1988 film, rather than the 2007 version which featured John Travolta.
With Byrne's biggest cast to date, 60 performers, the show ticked all of the boxes with a fantastic ensemble cast, an innovative pastel set and a rocking 12-piece band led by Rodney Hrvatin.
The high-energy show was led by petite powerhouse Michelle Davy as the naïve dreamer Tracy Turnblad.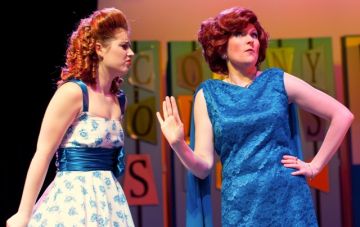 Davy was simply born to play this role and her vocals were passionate and pitch-perfect.
David Gauci gave a knock-out performance as Tracy's mama, Edna Turnbald. It was easy to forget that under all of the padding and the wigs hid a man.
And it was especially wonderful to see Gauci in this role in his own right as he was the understudy in the professional Australian production.
Kat Sachse as the ditzy Penny rounded out the stand-out performances, while newcomer Igor Igiraneza made an impressive debut as Seaweed J. Stubbs.
The songs were uplifting and audience favourites included You Can't Stop The Beat, I Can Hear The Bells and Good Morning Baltimore.
Choreographer Sue Pole did an amazing job with the large cast – especially on the ensemble numbers.
MBM's Hairspray received a standing ovation and with such a talented cast of seasoned and new actors – it was well-deserved and may there be many more.
Melissa Phillips
Images: (top) The cast of Hairspray led by David Gauci as Edna Turnblad and Michelle Davy as Tracy Turnblad; Danae Lloyd as Amber Von Tussle and Shelly Crooks as Velma Von Tussle; Joshua Penley as Corny Collins with the Nicest Kids In Town and Rachel Blackman, Michelle Davy as Tracy Turnblad, Shanice Allen and Igor Egiraneza as Seaweed J. Stubbs.