Adapted from Charles Dickens works by Hugh Janes. Prince Moo Productions. Directed by Jennifer Sarah Dean. Athenaeum Theatre, Melbourne. June 14 – July 1, 2017.
The Athenaeum is the perfect Theatre for this brilliantly staged work. All production values are in place to facilitate suspension of disbelief and immersion in the creepy 'old world fear' of a ghostly apparition. The marvelous picture book set by John Kerr with lots of quirks and illusions is really the fourth character of this stunningly eerie production.
A telling of this story could well start – 'It was a dark and stormy night……..' From the onset we are scared with a sharp scary noise and throughout, on many occasions we are offered the opportunity to jump in our seats. Sound by Kyle Evans and technical affects by John Kerr and the, at times, very strident use of light designed by Jason Bovaird combine to this splendid effect.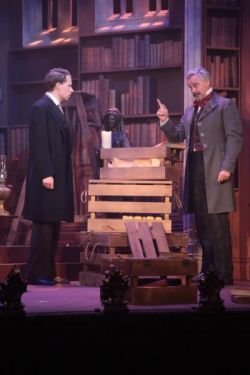 The ghostly presence is a good and spine-chilling effect. Her presence when the audience is made aware of it is beautifully costumed by Rhiannon Irving and stunningly lit by Jason Bovaird.
Cameron Daddo plays Lord Gray with style and poise. There is an ambivalence about this character that may be in the writing – rendering Lord Gray a kind of mercurial character. But I am left wondering if this is because the work is an amalgam of Dickens's stories. Whether it is because of this - that Lord Gray is painted as neither this nor that. This portrayal adds a little more confusion about what is really happening in the strange otherworldly atmosphere of the haunted mansion. It is a mystery.
The character of David Filde is beautifully played by Gig Clarke as a very straightforward young man of the era, a little kooky, but without guile or pretense. However he is hiding a secret that becomes clear in the final reveal.
Both characters are beautifully costumed and look perfect in atmospheric 'picture book' environment.
If you like ghost stories – catch this one. It is great - it balances sinister with scary and incorporates a terrific sense of humour and is very smoothly staged. My plus one loved it!
Suzanne Sandow
Photographer: Nicole Riseley.