Justin Burford. Adelaide Cabaret Festival. The Banquet Room. June 8 – 10, 2012.
In a ballsy move, ARIA Award winning frontman of End of Fashion, Justin Burford makes his cabaret debut with KURT, the story of 90's grunge god Kurt Cobain.
After casually mentioning the long held idea for a John Waters-esque take on Cobain's epic rise and demise to the Rock of Ages production team, Burford was given the opportunity to develop the show and present its debut performance at the 2012 Adelaide Cabaret Festival.
In KURT, Burford mixes Kurt Cobain's music with short snippets and anecdotes from his childhood, musical emergence and his rocky relationship with fame as Nirvana quickly went from nothing to the most influential and intensely scrutinised band since The Beatles.
He bravely performs in character and does an excellent job. Taking the risk of appearing overdone or too much of a "fanboy", he captures the apathy and dry humour of Cobain perfectly and is more than up to the job of doing justice to the music.
Reproducing Kurt's grainy, disdain-filled vocals with amazing exactness, Burford had Cobain down to a tee – the trademark dress, mannerisms and vocal inflections were all there; his band was equally impressive, smashing out iconic tunes with skill and ease.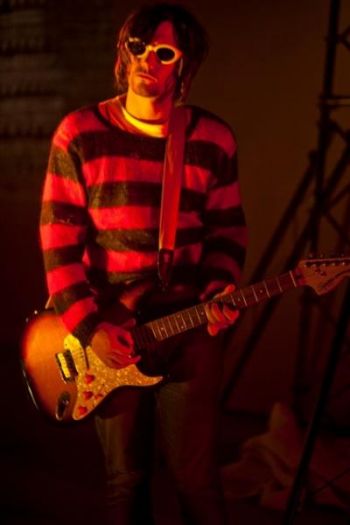 The well-written show cleverly matched the music with the timeline of the story, giving a great feel for the progress and development of Kurt as an artist and an individual.
This was a great show that was warmly received by the audience. Ending in rapturous applause that continued for minutes past the show's obvious conclusion was all the indication needed to declare the show a success.
From a cabaret perspective, the narrative took longer to warm up. This is not a reflection on Burford's interpretation of Cobain – he captured the man perfectly.
Kurt Cobain was well known as a quietly spoken introvert. As a performer, he was often too shy or, later, too drug affected to connect strongly or deeply with the audience. Reproducing this faithfully in a cabaret forum however doesn't necessarily translate.
Burford played his subject so well it almost worked against him. Cobain simply isn't a cabaret friendly character to play. Luckily, the quality of this show was such that it remained a hugely enjoyable piece.
KURT traverses Cobain's rise to fame and subsequent downward spiral into heroin addiction, depression and his struggle to deal with unrelenting scrutiny on top of long term mental and physical sickness.
As I watched, I found myself transported back to a time when Nirvana's music provided the soundtrack to everyday life. This is a sign of truly good art, and KURT definitely satisfies.
Nicole Russo
More Reading