Based on the novel by Henry Williams. Presented by Fractal Theatre Productions at the Ipswich and Anywhere Festivals 2015. Adapted and Directed by Brenna Lee-Cooney. Brisbane 13-23 May and Frankston 26 – 29 August, 2015.
The theme of this play struck a personal chord with me because coincidentally I recently decided to abandon life on the suburban highway and its environs in preference to the comforts of public transport; and one of the reasons relates to life on the road and the typical so-called Ugly Australian who enjoys venting his spleen with the accelerator pedal and causing chaos in his wake.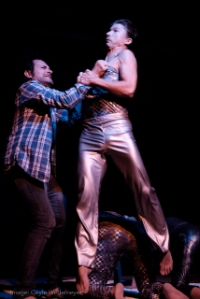 Additionally, this sentiment was enhanced for me by this moving presentation with tasteful direction, succinct use of surreal poetic and symbolic choreography and, in particular, a cast who really take you there, right into their characters' subconscious, and with conviction.
Sandro Colarelli is superbly cast as the central character, Zoe DePleviz's role as the poor wife convincing with her character's demonstrable truths, great presence from Beth Incognito while Vanja Matula's transition between five multiple roles, in particular the sadly harassed neighbour of European extraction, was smooth and capable, though perhaps an additional single item of clothing for each character would have topped off the effective minimalist setting of this well-developed adaptation from the novel.
With society's infatuation of cars both as a sex symbol and a form of escapism including Australia's current struggle with racism and domestic violence, this is a theme well worth exploring and though the outcome was near-predictable for a psychopathic central character (there were potent soliloquies throughout), this dark urban tale was brought to life by an excellent production, cast and crew from a Company-in-Residence we need to see more of.
Brian Adamson