By Michael Frayn. Hobart Repertory Theatre Society. Playhouse Theatre, Hobart (Tas). Director: Ingrid Ganley. August 5 – 20, 2011
A play within a play is an opportunity for Hobart Repertory Theatre Society to showcase the superb talents of its core group of actors, in its latest incarnation of Noises Off, written by Michael Frayn.
The play, described by director Ingrid Ganley as "the most fun you can have rehearsing a show", is a fast-paced classic farce. "Simultaneously a traditional sex farce Nothing On, and the backstage "drama" that develops during rehearsal of Nothing On and then later on tour", the show is side-splittingly funny.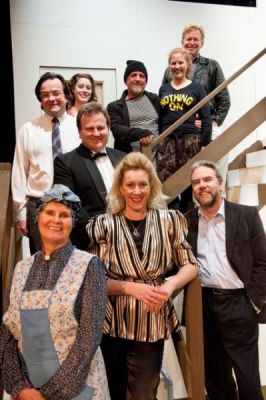 Ingrid Ganley shows her directorial experience with this play, exploiting every opportunity, and then some, for laughter. She was aided by a totally competent and experienced cast. Every member was at top form: there were no passengers in this production. This exacting play requires high energy levels, perfect timing and unselfish acting, and the nine-member cast shone through. Everyone was brilliant: Kathy Spencer (Dotty) maintained a superb over-the-top-accent and performance; Leigh Faulkner (Garry LeJeune) was athletic and perfectly timed throughout; and Madeleine Holt (Brooke Ashton) as the ditsy ingénue was perfect. Chelle Burtt (Belinda Blair) and Richard Kowaluk (TimAllgood) are always reliable: their timing and comic feel are dependable and necessary for such a clever, fast-paced farce.
Another important element: the audience-facing set and the backstage set was a masterstroke. Very well done! the best laughter I've had all year.
Merlene Abbott
Photographer: John King Smith
To keep up with the latest news and reviews at Stage Whispers, click here to like us on Facebook, or follow us on Twitter.