By J.M. Barrie. Hobart Repertory Theatre Society. Director: Danni Ashton. Playhouse Theatre, Hobart. 19 April – 4 May, 2103.
Peter Pan, the J.M Barrie play, as produced for the third time by Hobart Repertory Theatre, looked and felt like a pantomime. The opening night audience, including very young children, gave it the full pantomime treatment, including vocal interaction with the stage players.
The large cast of 34 featured at least 12 children, about 12 teens, and a few young-ish adults. The rest of the cast, although identifiable as adults, have of course refused to grow up. With such a mixed-age cast, one would expect an unevenness in quality of acting, especially from the very young ones, but the whole cast were fabulous in their enthusiasm and joy in the production. There was support by the more experienced cast for those less stage savvy, but the play didn't flag or fail for me, except that I felt that diction could have been improved, and the projection by some characters could have done with some volume.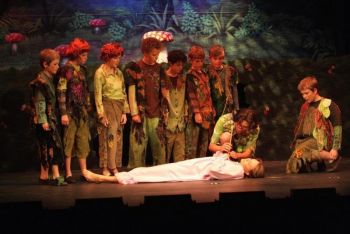 There was no flying, but director Danni Ashton infused the show with lightness and pace, keeping the action buoyant and fast moving. There were six scene changes in what were essentially two locations: the nursery and everywhere else in Neverland, including the pirate ship, the mermaid's lagoon and the home under the ground. For scenes other than the nursery, the cleverly done sets were on two levels, with use of lighting to focus on the action.
Aidan Fagazza-Furst was Peter Pan: light, bright, cheeky, mischievous and perky. Hannah Just as Wendy was suitably sweet, mothering, and lovely. Her sweet voice and girlish looks were an example of perfect casting. Peter West played Mr Darling and Captain Hook very well, but could have been even more sinister and louder in the Hook part.
Another fun, competent production, showcasing how well a good company can make an enjoyable production for audience and cast. I can't wait to see more from the youngsters from Peter Pan.
Merlene Abbott
Photographer: Wayne Wagg.