By Henry Lewis, Jonathan Sayer & Henry Shields, adapted from J M Barrie's original text. Lunchbox Theatrical Productions, Kenny Wax Ltd & Stage Presence in association with David Atkins Enterprises & ABA present a Mischief Theatre Company Production. Arts Centre Melbourne, the Playhouse. 21 December 2018 – 27 January 2019
Peter Pan Goes Wrong? It certainly does. In this show, what can go wrong, goes wrong. Think of any disaster, mishap, mistake, scenery disaster, wardrobe malfunction, inept and talentless cast, missed cue or dropped line - anything that can befall a live theatre show and in this show it does. Hilarious. I don't think I have laughed so much in the theatre for years.
Of course, audiences are smart: they know when something has really gone wrong (and react with a gasp) and when what goes wrong is intentional – and then it's funny. Plus, the performers have to be very, very good to be convincingly bad – and this cast is very, very good. The jokes might be obvious, even predictable, but they are executed with such brio, such panache, such insouciance, such fearless disregard for dignity, life and limb that they all work.
The joke begins before the show, not only with inveigling the audience into helping with some electrical problems, but with the glossy programme. There we read of the 'Cornley Polytechnic Drama Society', the history and make-up of which explains the rank amateurism, nepotism, internecine spats, miscasting, shoddy and dangerous electronics and scenery, and, well, everything that goes wrong in what we are about to see. Furthermore, the real cast all play named members of this 'Cornley Polytechnic Drama Society' (complete with fake biogs) and they in turn play the familiar characters in Peter Pan.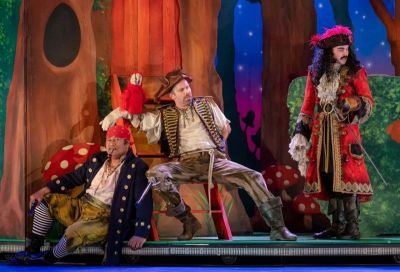 For instance, 'Chris Bean' (Connor Crawford) is not only the director – with co-director 'Robert Grove' (Luke Joslin) – of the play within the play, Peter Pan, but he – 'Chris Bean' – plays both Mr Darling and Captain Hook, and in both roles he is stiff, declamatory and quite unconvincing because he is, after all, 'Chris Bean', a pretentious twit who insists the show is not a pantomime even if 'Robert Grove' says it is. Meanwhile, 'Annie Twilloil' (Tammy Weller) for some reason quadruples as Mrs Darling, the maid Lisa, Tiger Lily and a galumphing Tinker Bell, and plays all four pretty much exactly the same with a beaming, adorable smile directed straight to the audience rather than at her colleagues. 'Max Bennett' (Jordan Prosser) is Michael Darling, whom 'Max', devoid of any theatrical ability, plays as a mix of innocence and conceit. And the innocence wins out: the audience just loves him! Later, when 'Max' plays the Crocodile, he is humiliated and slinks off the stage. A woman in the audience call out, 'We love you!' Max replies: 'Thanks, Mum.' The Narrator is 'Francis Beaumont' (the much-loved Jay Laga'aia) and even that can go wrong – and does. As for the key role of Wendy, she is played by 'Sandra Wilkinson' (Francine Cain) who never lets you forget how 'pretty' she is and who cannot say a line without much superfluous expressive dance movements.
The techs and mechs, in constant demand to fix whatever goes wrong – in plain sight – are also characters: the Stage Manager 'Trevor Watson' (Adam Dunn) has even to stand in at one stage for Peter Pan after 'Jonathan Harris' (Darcy Brown), as Peter Pan, is indisposed after the cables flying him in don't quite work… (The identity of the Flying Operator is not disclosed.) But the whole cast brilliantly and consistently play characters of no acting or practical talent whatsoever.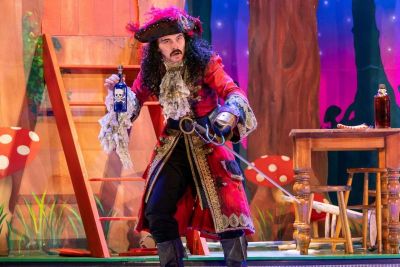 Director Adam Meggido makes everything that goes wrong look plausible and keeps up the cracking, relentless pace that provides a laugh pretty much every thirty seconds whether it's slapstick, mugging, abuse of the audience, a tech caught fixing something or a quick costume change that isn't quick enough. The only times this pace flags are with the broadcast of what should be sound effects but are, by mistake, recordings of management conversations (about the private lives and lack of talent of cast members) or 'Robert Grove's' wince-making audition tapes. These gags, while amusing enough, slow the momentum – the cast has to freeze until they're over.
Peter Pan Goes Wrong is a follow up to this company's very successful The Play That Goes Wrong. It is energetic; it has a spontaneity that is planned to the last detail and it works. The invention of the writers, the director, the cast, the designers, everyone concerned appears inexhaustible. The laughter is continuous. It is a great show for kids who can revel in grown-ups making total fools of themselves. There is zero substance or meaningful message to the whole thing: it is sheer entertainment and great fun, delivered with complete professionalism.
Michael Brindley