By Anton Chekhov, adapted by Anthony Skuse. Secret House. The Depot Theatre, Marrickville, NSW. December 6 – 16, 2017
Anthony Skuse has adapted this four-act work by Anton Chekhov into an almost two-hour production that retains the melancholy of the thwarted ambitions and tortured relationships of his nineteenth century characters yet brings them into a more contemporary frame. And, a multicultural cast using their native dialects, highlights the universality of the themes, especially the depressing effects failure and despair.
New NIDA graduate Kyle Jonsson has designed a set that conjures the 'grey' of the Sea of Azov in Chekhov's homeland by filling the inset stage it with tiny pieces of slate-coloured rubber providing a thick, dark carpet that ripples under the feet of the actors. Whether it symbolises their insecurities or merely the bleakness of the landscape, it centres the action inside a darkened space and mirrors it in heavy plastic side screens. Liam O'keefe has emphasised the gloom with the shadowy effect of subdued lighting. And the decision to use live sound – the clinking of china, the low ringing of a crystal glass, and the gentle strum of a guitar played by Yakov (Matthew Bartlett) – effectively accentuates the naturalism of the play.
With the ubiquitous chairs that have become symbolic of the opening scenes of The SeagullI, and a table that becomes Nina's stage, Skuse pushes the pace of the action beyond Chekhov, but still maintains the impending gloom that haunts so many of Chekhov's characters. And by choosing not to break the performance with an interval, the pervading pessimism of the play suffuses to the audience.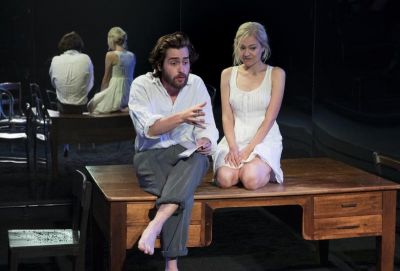 James Smithers as Konstantin takes Chekhov's tragic hero from youthful optimism and first love to perceived failure and despair. Nina, who rejects his love and security to follow Trigorin and his promise of stardom, is played by Jane Angharad, who finds the childlike gullibility of Nina as well as the strength that allows her to survive failure.
Abe Mitchell is befittingly poetic as the aesthetic Trigorin, making the most of his capricious whimsy and inconstant affection. As Irina, Deborah Galanos is strong, poised, assertive, manipulating those around her as if they were a celebrity entourage. This is one of Chekhov's more resilient women and Galanos makes the most of her apparent power.
They are backed by a skilful supporting cast who bring more natural compassion and a little humour to the play. Alan Faulkner's timing as Sorin breaks moments of gloom; and Leilani Loau as Polina portrays the stability and constancy that Irina and Nina lack.
Despite the fact that it is a 'long sit' on relatively uncomfortable chairs, this production makes Chekhov's motifs about writing and the theatre less esoteric and even stronger than the characters that espouse them.
Carol Wimmer
Photographer: Bob Seary