By Tony Brockman & Matthew Ryan. Brisbane Arts Theatre. 3 Sept – 1 Oct 2011
Richard Hunt and Gregory Rowbotham's extraordinary industrial-looking set tickles your funny bone as soon as you enter the theatre and prepares you for the inspired lunacy that's coming.
This is an early Brockman and Ryan play. It suggests potential that could see them develop into Australia's equivalent of Ray Cooney & John Chapman if they keep writing.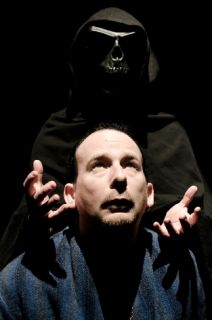 Michael Fitzhywel as an anarchic Everyman in pyjamas manages to throw the folder shuffling-and-stamping bureaucracy into disarray. John Russell (General Operations Director), Anna Kennedy (Gabriel – Second in Command) and Daren King (Head of Client Processing), all resplendent in bizarre costumes by Robyn Edwards and Frances Foo, deftly walk the tightrope between comedy and the ridiculous.
But it's Damien Campagnolo (the unloved red-suited Head of Correctional Services) who wins my plaudits.
Marie-Louise Nolan's lights and Dan Beeston's sound design add to the celestial confusion. And watch Lawrence Dixon's clock – it measures time in two directions, just to complicate the issue.
This is a triumph for director Gregory Rowbotham.
If you enjoy the irreverent lunacy of Peter Cook and Dudley Moore, The Goons, Monty Python … you'll love this show.
If this is dying, may I live forever!
Jay McKee
To keep up with the latest news and reviews at Stage Whispers, click here to like us on Facebook, or follow us on Twitter.