By Charles Dyer. Castle Hill Players. Pavilion Theatre, Castle Hill. Nov 17 – Dec 9, 2017.
Written by British actor and playwright Charles Dyer, Wanted – one body! has been staged constantly since its first production in 1961. Set on a stormy night 'many years ago' in an old stately home in England, with lots of crashing thunder, flashing lightning, eerie wailing, a sliding panel and the occasional piercing scream, the play has all the essentials of a typical 'whodunnit'. But, with a couple of disappearing corpses it turns from 'thriller' into a crazy mix of comedy and mystery. With his usual talent for teasing out all the comic possibilities in scripts such as this, director Dave Went mixes the best elements of melodrama and farce to make it even crazier and funnier.
The plot is complicated – of course! Old Mr Barraclough has died, leaving his fortune to be divided between his two nasty and demanding stepdaughters … and his staff. When his body disappears and one of his stepdaughters also dies in mysterious circumstances, everyone is under suspicion - the cook, maid, the chauffeur, the secretary, the ghoulish undertaker, and a very strange doctor. All have motive and opportunity. Will a solicitor and his bumbling young clerk be able solve out the mystery?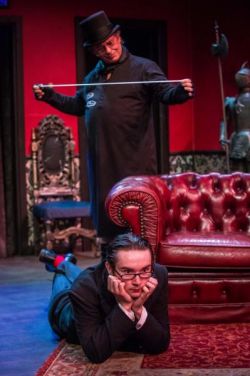 Set designer Maureen Cartledge has created an appropriately gloomy but 'stately' set. Red and black predominate with gargoyles grimacing from the stairs and family portraits glowering from the walls. The atmosphere is dark and heavy. Andrew Kinch's lighting creates shadowy corners and Daniel Vavasour's sound design adds the throb of impending doom.
Faith Barraclough has assumed her role as joint heiress and is determined to take control of the household. She is hard, vicious, demanding – and imposing. Dressed in the prevailing red and black theme of the production (costumes by Annete van Roden), Leigh Scanlon takes on the role of this melodramatic villain with posturing zeal. She sweeps, struts, bellows orders and fixes her newly acquired staff with steely eyes – as does her sister, Hope, who appears later in the play. There is no charm – or charity – in these callous, ambitious sisters.
The charm does come, however, with the arrival of the solicitor, Mr Blundell (Ben Freeman) and his acolyte nephew, Mr Mickleby (Jono Burt). Under Went's practised hand at comedy and farce, these characters deliver the 'one-liners' and sight gags that lift the tenor and pace of the play.
Freeman comes into his own as Blundell. Just a little pompous, just a little haughty, and just a little panicky, he nails the essence of this character that becomes the 'Poirot' of Dyer's mystery. Burt provides his perfect foil. Together their witty repartee and awkward blundering are very funny – the result of explicit direction, concentrated rehearsal and a commitment to getting the characters and the timing right.
Supporting them in this comic mayhem, are Larry Murphy who plays the near-sighted, hard-of-hearing Dr Brown, and Phil Lye, who is the dour, measured undertaker, Mr Sorrell. Holky Bramble is the nosey, feisty serving wench and Samantha Camilleri the elegant but, apparently much-wronged secretary, Anne Beale. Ian Fletcher is the defiant chauffeur and Anthea Brown plays the household cook.
Dave Went and his enthusiastic cast bring the Pavilion's 2017 season to a close with a production that mixes the stock characters and theatrical features of melodrama and farce in a zany series of comic ups and downs that can't help but entertain.
Carol Wimmer
Photographer: Chris Lundie