Written by Christine Croyden; original songs by Ella Filar. La Mama Courthouse. 26 October – 6 November 2016.
The World Without Birds is a wry lament for a woman's life. The title is both metaphor and play on words. The show could easily slip into a long whinge, but here any bitterness or rage is mitigated by rueful wit, humour, the incredulity of hindsight ('Did I really do that?') and the philosophical shrug.
The Queen of the Birds (Margot Knight) looks back over her life, from when she really was 'the queen of the birds', youthfully beautiful and desired and believing the world was hers to do with, and in, as she liked. The poignant nature of things is increased since Ms Knight is, of course, still beautiful – and she knows to use the stage and her movements to suggest a wasted energy under the languid surface.
Nest building? That could wait. But men proved unreliable, the career was often thwarted, the children ungrateful and the nest that did resignedly get built unrewarding…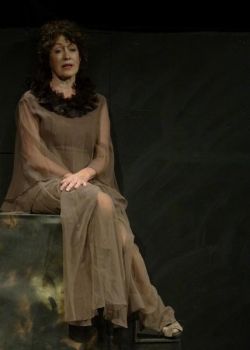 The show began, apparently, as a monologue – the older Queen looks back – but then Christine Croyden added the young queen, Sybil (Charlotte Fox, a trained singer with a lovely voice and a strong presence), so that old queen and young queen can bounce off each other and be on stage together, sometimes in conflict, at other times in frustrated agreement. The five male characters in the life, variously played cleanly and forcefully – with honeyed promises or strutting assurance – by Rhys James and Nathaniel Schneider – flesh things out.
A brilliant stroke, however, was Ms Croyden's decision to invite cabaret composer and lyricist Ella Filar to contribute. Some of Ms Filar's songs were pre-existing, but they slot right in as comment or counterpoint to the story. A couple were composed especially for this show. One is 'Posthuman Neo Feminazzi Tango' – complete with a dance, of course. It's a stand-out. But all the songs and the music are world class with that smoky, jagged, disturbing Weimar feel. (If you attend the show, you get a songbook of the lyrics.) Ms Filar is spooky on keyboard. Martin Zakharov alternates sax and clarinet; Sophie Kinston plays sharp violin.
Ms Croyden's writing is pointed and only once becomes reflexively semi-autobiographical: a funny couple of sequences in which the mature Queen (as playwright) encounters a couple of male wanna-be theatre makers – with a grant - about to mount a production of Who's Afraid of Virginia Woolf. They haven't heard of Edward Albee, let alone read the play!
Elizabeth Walley's direction only looks simple, stripped back to essentials, but it wisely avoids unnecessary busy-ness and is always to the point. The design of set and costumes by Dagmara Gleysztor is detailed, each item carefully chosen and expressive – from the Queen's nest to her rather floaty, period chiffon to Sybil's hot pants to duplicitous Romeo's jacket, layered in black like a crow. Here is a show that runs about an hour and in which the sophistication and the theatrical and lived experience of the creators (and Ms Knight) are evident. Everybody 'gets it'. It's a pleasure to see a polished show of mature and witty reflection on life.
Michael Brindley
Photo credit John Edwards