Producers Howard Panter, John Frost and Torben Brookman today announced that Richard O'Brien's The Rocky Horror Show would return to Australia in a fresh new production next year, with Craig McLachlan again donning Frank N Furter's legendary fishnet stockings in his Helpmann Award-winning role. The Rocky Horror Show will re-open the refurbished Festival Theatre at the Adelaide Festival Centre from 28 December 2017, then play at QPAC, Brisbane from 18 January 2018, and the Crown Theatre, Perth from 17 February 2018.
"To say we are thrilled to dance the Time Warp across Australia again is an understatement," said Howard Panter on behalf of the producers. "We're often asked when everyone's favourite rock and roll musical is returning, so it's wonderful that the planets have aligned to bring Craig back to his award-winning role. This is sure to be an even wilder, funnier and sexier night out than ever before!"
The Rocky Horror opened at London's Royal Court Theatre on June 19, 1973, quickly developing a cult following, and was adapted into the 1975 film The Rocky Horror Picture Show, which has the longest- running release in film history. This iconic brand holds a unique place in theatre history, a show which has defied the decades and continued to grow in popularity.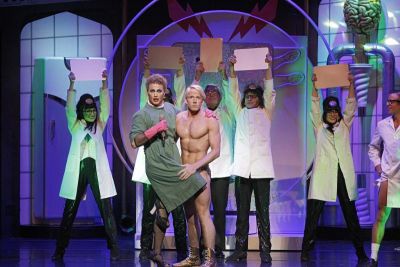 Millions of people all over the world have and continue to see productions of The Rocky Horror Show and sing along to classics like Sweet Transvestite, Dammit Janet, I Can Make You A Man, Touch-a Touch-a Touch Me, Over At The Frankenstein Place and of course, The Time Warp.
Tickets for the Adelaide season of The Rocky Horror Show go on sale on 22 September, for the Brisbane season on 6 October and for the Perth season on 20 October.
Photographer: Jeff Busby - 2014 Australian cast.
SEASON DETAILS
Festival Theatre, Adelaide
Season: From 28 December 2017
Performance Times: Tuesday – Saturday 7.30pm, Saturday 2.00pm, Sunday 1.30pm & 5.30pm Price: From $59.90*
Bookings: bass.net.au or 131 246
Groups 8+ (08) 8205 2220 TICKETS ON SALE 22 SEPTEMBER
QPAC, Brisbane
Season: From 18 January 2018
Performance Times: Tuesday – Saturday 7.30pm, Saturday 1.30pm, Sunday 1.30pm & 5.30pm Price: From $59.90*
Bookings: qpac.com.au or phone 136 246
Groups 8+ (07) 3840 7466 TICKETS ON SALE 6 OCTOBER
Crown Theatre, Perth
Season: From 17 February 2018
Performance Times: Tuesday – Saturday 7.30pm, Saturday 2.00pm, Sunday 1.30pm & 5.30pm Price: From $59.90*
Bookings: tickmaster.com.au or 136 100
Groups 8+ 1300 889 278 TICKETS ON SALE 20 OCTOBER