Sydney Theatre Company and Global Creatures have announced today that Gary Sweet will play the role of Muriel's father Bill Heslop in the world premiere of Muriel's Wedding The Musical. The production, a theatrical version of PJ Hogan's iconic hit film, updated to today by the writer himself, features original music by Kate Miller-Heidke and Keir Nuttall alongside those beloved ABBA numbers. The musical is exclusive to Sydney, playing at Roslyn Packer Theatre with previews from 6 November, opening on Saturday 18 November 2017.
Sweet was drawn to the role of Muriel's imperious father Bill because he's a wonderful villain to play. "He's a scoundrel and a blaggard, he's rambunctious, nasty at times, duplicitous and completely selfish… what an absolutely delightfully disgraceful character for an actor… mind you he does get his comeuppance!"
The role of the corrupt councilman was played by the late Bill Hunter in the original film. "Bill and I worked together on many occasions and he and I were great mates," Sweet said. "I hope to do him proud and expect a sign from him, wherever he is, to let me know how I'm going."
Director Simon Phillips said: "It's gratifying to realise that one of Australia's most renowned bad boys has grown old enough to inherit the shoes left by the late great Bill Hunter. 'Bill the Battler' has achieved iconic status as an incorrigible Aussie scoundrel, but like everyone in Muriel's Wedding he needs to be played by an actor of eye-twinkling charm. There can be no doubt that Gary fits the bill (no pun intended) in every way - he has effortless comic gifts and outrageous charisma. And, who'd've thought it, he can sing! He has put the icing on the cake of our Muriel's cast."
Sweet's career started in the early 1980s with the on-going role of Leslie 'Magpie' Madden in The Sullivans, and in 1984 he was cast in his first major role as Donald Bradman in the Network Ten miniseries Bodyline. Between 1990 and 1996, Sweet starred in the ABC drama series Police Rescue. The role made Sweet a house-hold name and lead him to win several major television awards. Other television projects include: The Great Bookie Robbery, Come in Spinner, Children of the Dragon, The Battlers, Blue Murder, Cody, Big Sky, Cold Feet, Wildside, Stingers, The Circuit, Rain Shadow, The Pacific,Rescue Special Ops, The Doctor Blake Murder Mysteries, Wolf Creek, Janet King, Wake in Fright and 5 series of House Husbands. Films include: The Lighthorseman, Fever, The Dreaming, An Indecent Obsession, Love in Ambush, The Tracker, , Getting Square, Macbeth, 2:37, Bitter & Twisted, The Chronicles of Narnia: The Voyage of the Dawn Treader, Fatal Honeymoon, Charlie's Country and most recently A Month of Sundays.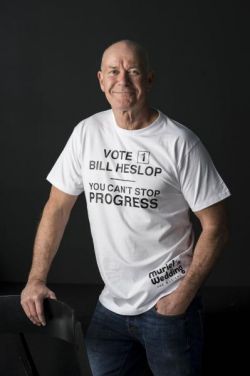 Though most recognized for his television & film roles, Sweet has appeared in stage productions of The Club (David Williamson) and The Recruit (Tony McNamara) for Melbourne Theatre Company and La Cage Aux Folles for The Production Company. He has also appeared in the musicals Oh, What a Night and Little Orphan trASHLEY, and has narrated Our Don for the Adelaide Symphony Orchestra.
Joining Gary on stage are Maggie McKenna as Muriel, Madeleine Jones as Rhonda, Justine Clarke as the long suffering Betty, with other members of the Heslop clan played by Briallen Clarke (Joanie), Michael Whalley (Perry) and Connor Sweeney (Malcolm), while Helen Dallimore plays the strangely ever-present beauty consultant, Deidre Chambers. Celebrating her marriage to Chook (Aaron Tsindos), Tania Degano is brought to life by Christie Whelan Browne, accompanied by a posse of bridesmaids, played by Manon Gunderson Briggs, Hilary Cole and Laura Murphy. Brice Nobes, the first guy to ever ask Muriel on a date, is played by Ben Bennett and Stephen Madsen is Olympic swimming hopeful Alexander Shkuratov. The 28-strong cast also includes Annie Aitken, Jaime Hadwen, Sheridan Harbridge, Mark Hill, Kaeng Chan, Tony Cogin, Caroline Kaspar, Adrian Li Donni, Luigi Lucente, Kenneth Moraleda and Tom Sharah.
Director: Simon Phillips. Set and Costume Designer: Gabriela Tylesova. Choreographer: Andrew Hallsworth. Lighting Designer: Trent Suidgeest. Sound Designer: Michael Waters. Musical Supervisor: Guy Simpson. Musical Director: Isaac Hayward.
The world premiere of Muriel's Wedding The Musical has been secured exclusively for Sydney through the NSW Government's tourism and major events agency, Destination NSW.
Sydney Theatre Company and Global Creatures present
Muriel's Wedding
The Musical
Book by PJ Hogan
Music and lyrics by Kate Miller-Heidke and Keir Nuttall, with songs by Benny Andersson, Bjorn Ulvaeus and Stig Andersonoriginally written for ABBA
6 November 2017 to 27 January 2018, Roslyn Packer Theatre, Walsh Bay
Opening Night: Saturday 18 November at 7.30pm
Tickets now on sale: www.sydneytheatre.com.au / 02 9250 1777.