After two Sydney seasons, the comedy revue Senior Moments is back for its first national tour from February 2018, with the John Wood and Max Gillies now joining Benita Collings and Geoff Harvey in the senior theatrical sensation.
Return Fire Productions has announced that the comedy revue will travel to theatres in Adelaide, Melbourne, Hobart, Sydney and Perth from February 2018
Senior Moments is a comedy revue about old people and the young people they have to deal with, with sketches and songs and performers who are old enough to know better, all making wicked fun of the trials and tribulations of growing old disgracefully.
Gold Logie winner and veteran actor John Wood (Blue Heelers, Rafferty's Rules) is having a season of Senior Moments in 2018. Joining him in this seriously silly show for otherwise sensible seniors will be master satirist Max Gillies (The Gillies Report, Once Were Leaders), Play School icon Benita Collings, Kim Lewis (Sons and Daughters, The Restless Years) and Russell Newman (A Country Practice, Underbelly), with Midday Show Maestro Geoff Harvey on piano.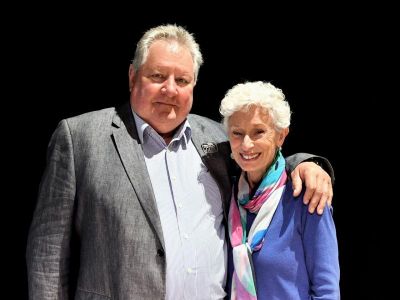 With its cast of theatrical performers, young and veteran, Senior Moments is a funny and fresh collection of comic senior moments, scenes and songs, all guaranteed to stop you from thinking constantly about your lumbago for at least 90 minutes. Hilarious sketches and brilliantly witty songs performed by some legendary show business seniors.
Senior Moments: a seriously funny revue for slightly old people. (That's you. Be honest.)
SENIOR MOMENTS
Written by Angus FitzSimons and Kevin Brumpton
Directed by Angus FitzSimons
Cast:John Wood, Max Gillies, Benita Collings, Russell Newman, Kim Lewis and Christian Barratt-Hill with Geoff Harvey on piano.
Pictured: John Wood and Benita Collings.
ADELAIDE
Venue: Dunstan Playhouse, Adelaide Festival Centre
Performance Dates: From 6 February 2018
Performance Times: Tues 6.30pm, Wed 11am & 2.30pm, Thurs 11am, Fri 2pm & 7.30pm, Sat 2pm & 7.30pm
Running Time: 90 mins, no interval
Ticket Prices: $45-$69
Bookings: bass.net.au or phone 131 246 or BASS outlets
MELBOURNE
Venue: Comedy Theatre, Melbourne
Performance Dates: From 14 February 2018
Performance Times: Wed 2pm, Thurs 11am & 2.30pm, Fri 8pm, Sat 2pm & 8pm, Sun 12.30pm & 4.30pm
Running Time: 90 mins, no interval
Ticket Prices: $45-$69
Bookings: ticketmaster.com.au or 1300 111 011
HOBART
Venue: Theatre Royal, Hobart
Performance Dates: From 21 February 2018
Performance Times: Wed 2pm, Thurs 11am, Fri 2pm & 7.30pm, Sat 2pm & 7.30pm, Sun 12.30pm & 4.30pm
Running Time: 90 mins, no interval
Ticket Prices: $45-$69
Bookings: www.theatreroyal.com.au or 03 6233 2299
CHATSWOOD
Venue: Concourse Theatre, Chatswood
Performance Dates: From 28 February 2018
Performance Times: Wed 2pm, Thurs 11am & 2.30pm, Fri 7.30pm, Sat 2pm & 7.30pm, Sun 12.30pm & 4.30pm
Running Time: 90 mins, no interval
Ticket Prices: $45-$69
Bookings: theconcourse.com.au or 02 8075 8111
PARRAMATTA
Venue: Riverside Theatres, Parramatta
Performance Dates: From 14 March 2018
Performance Times: Wed 11am, Thurs 11am, Fri 2pm, Sat 2pm & 8pm
Running Time: 90 mins, no interval
Ticket Prices: $45-$69
Bookings: riversideparramatta.com.au or 02 8839 3399
PERTH
Venue: Heath Ledger Theatre, Perth
Performance Dates: From 21 March 2018
Performance Times: Wed 2pm, Thurs 11am & 2.30pm, Fri 7.30pm, Sat 2pm & 7.30pm, Sun 12.30pm & 4pm
Running Time: 90 mins, no interval
Ticket Prices: $45-$69
Bookings: Ptt.wa.gov.au or ticketek.com.au or 08 6212 9292