THEATRE IN A BOX - BASE GAME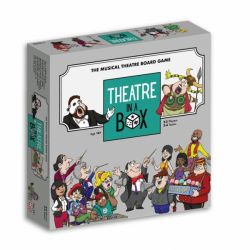 Theatre in a Box Base Game.
Theatre in a Box is the party board game for musical theatre lovers.
With your combination of performance skills, general musical theatre knowledge and a little bit of luck you can be the 'triple threat' that collects the most tickets to win the game.
Interactive card categories like 'Songs', 'Alpha-theatrical', 'General Knowledge' and 'Entertain' provide the chance to shine like the star you are! Whilst the 'Tears and Cheers' are chance cards that can quickly alter the outcome of the game.
Simple set up. Easy to play. Just roll the dice, move your piece and complete the challenge. Collect tickets. The most tickets wins - it's that easy (and great fun!)
See our review here.
BONUS 3 E editions of Stage Whispers
Bulk Orders