Carmen
By Georges Bizet. Handa Opera on Sydney Harbour. Director: Gale Edwards. Set Design: Brian Thomson. Costume Design: Julie Lynch. Choreography: Kelley Abbey. March 22 – April 12, 2013.
Sydney has had an extraordinary weekend of glittering opening nights. I was lucky enough to enjoy the puppet wizardry of War Horse, the spectacle of Carmen and the pure entertainment of The Addams Family on successive days.
All were brilliant in their own way, but if I was forced to award a Gold Medal for the number one ticket in town it would have to be Carmen.
Opera Australia pulls out all stops to make this a showcase of excellence in all departments.
Even the late afternoon storm that threatened to wash out the opening night cleared to reveal the gorgeous calm backdrop of Sydney Harbour.
But the spectacle of the Opera House, Harbour Bridge and city lights could not distract you from the eye candy on the stage.
At the centre was a tilted ring under the bold red lights of a large illuminated Bull and Carmen sign.
Against this, costumes and flags in a kaleidoscope of glimmering colours flashed onto the stage.
This was perfect for outdoor carnival and bullfighting scenes.
Just one of the special moments was the arrival of the flashy bullfighter Escamillo in a gleaming vintage car and jacket to match.
The dancing too was bold and rich. The challenge of pushing the dancers to the limit on a stage that was at an angle, was highlighted when a male dancer leaned back and almost toppled over.
Just as exciting as the staging was the cast.
Rinat Shaham as Carmen was provocative and feisty. Her passion and larger than life theatrics took control of the stage.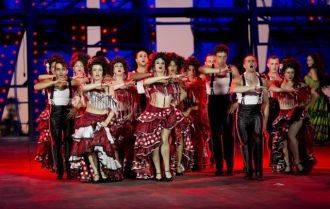 And making the hairs stand up on the back of your neck was Dmytro Popov as Don Jose. His arias soared over the Harbour,
Every note from the orchestra and cast was crystal clear, the microphones giving the Opera the feel of a commercial musical.
The only shame was the audience's applause was not also helped by microphones so the cast, creatives and crew could not hear more fully the ovation they richly deserved.
David Spicer
Images: Rinat Shaham as Carmen; Rinat Shaham as Carmen and Dmytro Popov as Don Jose; Dancers Photographer: James Morgan.