Flowerchildren
World Premiere. By Peter Fitzpatrick (featuring the songs of The Mamas and The Papas). Musical arrangements Simon Stone. Magnormos. Theatre Works, St Kilda (Victoria). Director: Aaron Joyner. Musical Director: Sophie Thomas. 29 August -10 September, 2011.
Fans of the late 60s sensation The Mamas and The Papas will relish this historical tour of their turbulent off-stage lives, and the revival of a unique musical brand. Behind the backdrop to hits like California Dreamin', Monday Monday, Words of Love, Creeque Alley and Dedicated to the One I Love, band members forged a self-destructive path of drugs, sex, deceit, alcoholism, over-eating, and a debilitating love-triangle.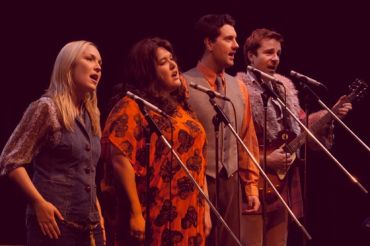 Highlights include stirring ensemble singing by all four main characters (Casey Donovan, Laura Fitzpatrick, Matt Hetherington and Dan Humphries), and a pumped band. Casey Donovan's powerful rendition of Dream a Little Dream of Me towards the close is spine-tingling.
Flowerchildren uses extensive monologue to link the songs and dialogue. The dramatic pace packs a punch, until the final stages when the narrative becomes overly lengthy. While the audience might crave the music, the repetition of San Francisco (Be sure to wear flowers in your hair) is superfluous. Sadly the static set and limited props don't sufficiently support the impressive musical content, a deficiency partly relieved by multiple costume changes.
While Flowerchildren is definitely not family fare (drugs, sexual references, language), and extensive smoking on stage had some audience members reaching for their asthma puffers, this is a fun night out for those who recognise the songs. We left, singing.
Lucy Graham