Fractions
By Marcel Dorney. Queensland Theatre Company & HotHouse Theatre . Cremorne Theatre, QPAC, Brisbane. 14 November -10 December 2011
This is a splendid play, brilliantly written, and destined for literary greatness.
Queensland Premier's award winner, it will polarise audiences: if they like to be challenged they'll love it (in scope it resembles The Crucible); those who seek light entertainment won't.
Muslim terrorist attacks on the World Trade Centre marked the start of this century; Christian zealots' destruction of the Library of Alexandria, then seat of the world's learning, took place 1600 years earlier.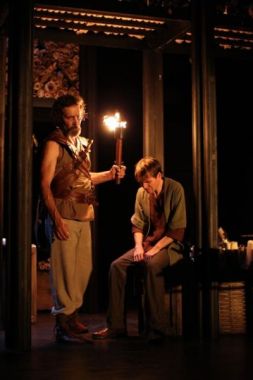 Hypatia was our first female scientist of significance: astronomer, mathematician, philosopher and custodian of the Library. Jolene Anderson brought to the pivotal role Hypatia's legendary beauty, intelligence and strength of character. Splendid casting.
Equally impressive were her supporting cast:
Eugene Gilfedder (Rika, her warrior protector) is torn between duty and his distrust of learning. He also plays a tiler employed to repair the library's roof, who reacts violently when he finds Hypatia is teaching his son geometry.
As Orestes, Hugh Parker (Magistrate/Prefect) is caught in the turbulence when Roman Christians, Jews and remnants of the Greek intelligentsia like Hypatia clash in Alexandria.
Jason Klarwein was impressive as Kyril, Archbishop of Alexandria by the end of this play. He also played the tiler's son.
Lucas Stibbard, impressive as Synesius, student of Hypatia, and Simon, the Jew who constructed an early telescope from Hypatia's design, helped her remove critical scrolls before the library's destruction,
For director Jon Halpin, this production was a labour of love ─ he was with the project right through its development. And design, lighting, sound, stage management lent talents any playwright would die for.
Jay McKee
To keep up with the latest news and reviews at Stage Whispers, click here to like us on Facebook, or follow us on Twitter.