The Heartstring Hotel
In the newly opened Runcible Spoon (Vic). Directed by Jason Cavanagh.
The Runcible Spoon is a 'hip' addition to the stylish Owl and the Pussycat Gallery at 34 Swan Street Richmond – opposite the Richmond Station. Opening night was a busy, lively cosmopolitan, fashionable fringe arts affair.
The small, slightly claustrophobic, theatre space is the front upstairs room of a two story Victorian terrace with, on this occasion, little more than a, bay window size stage.
The Heartstring Hotel is an engaging, entertaining amalgam of scenes of love and lust in which four competent actors exhibit considerable skill. And, yes, one is treated to some of the Balcony Scene from Romeo and Juliet and a little Elizabeth Barrett Browning. Unfortunately the program does not list texts, writers or characters played.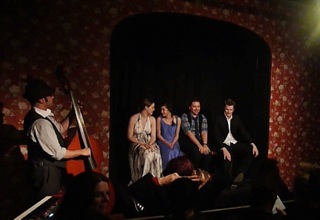 Amongst varied offerings Adrian Dean and Susannah Firth use great comic timing scenario in which both characters are able to eradicate unsuccessful pick up lines and incriminating comments by the ringing of a bell. Giuseppe Mauceri presents a very strong rendering of a Edgar Allen Poe poem that would benefit from a little more modulation of his mellifluous voice. Jacinta Yelland very poignantly portrays a teenage 'femme fatal' to Adrian Dean's lascivious mature adulterer.
From this strong beginning the ensemble displays much talent and potential. However this production leans toward satisfying the 'male gaze' and is perhaps a little 'old fashioned' in choice of material.
Suzanne Sandow
Photos from left to right: Susannah Firth, Jacinta Yelland, Giuseppe Manceri and Adrian Dean