HYPRTXT Festival
MKA. Upstairs at Tuxedo Cat. 17 Wills Street Melbourne - 14 – 28 June 2014
'Keen as Mustard and Sharp as Paint' MKA's HYPRTXTis a great chance to engage with some complex contemporary writing for theatre. If you are after polished flawless production values - don't even think about it. However if you are prepared to take the risk of being confronted and challenged by energetic, passionate totally underfunded but eternally courageous gifted theatre makers - get to the Tuxedo Cat in the next couple of days and be inspired and soak up the ambiance.
On The Grace of Officials by Emilia Poyhonen @ 7pm
(Presented especially for Refugee Week)
On the Grace of Officials, a Finnish play by Emilia Poyhonen, struck me as a work based on, what one feels should be a contradictory premise, that old world explorers and colonialists would intrinsically support the notion of embracing Asylum Seekers in our modern world.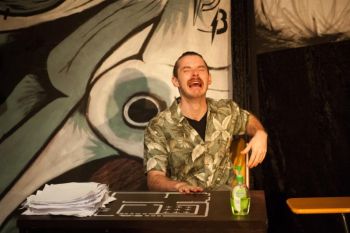 It tries to cover a lot of territory (pardon the pun). It feels a bit like a University Revue that is part history lesson, part expose of small-minded contemporary bureaucratic maneuvers around an asylum seeker whose life reads like a fable.
The writing could do with some culling and focus to fully hit the mark and the staging would be significantly enhanced with the practicality of more lights so the lighting designer (Clare Springett) could achieve more atmosphere. However it is currently nothing short of engaging, funny and a bit moving as well.
The soundscape (Tom Backhaus) is affecting and there are some strong performances particularly from the actors who played Professor Fridtjof Nansen and the Asylum Seeker. Emerging Director Rohan Maloy appears to have managed the material, and his cast, well on a shoestring budget.
Affirming and thought provoking.
The Defence by Chris Dunstan @ 8pm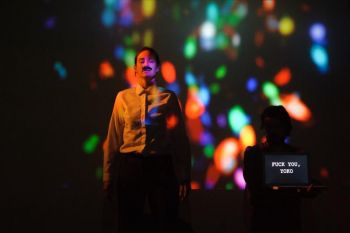 The Defense not only looks at Strindberg the man, but perhaps more importantly it decisively describes a fraught director/actor relationship between a male director (Brett Johnson), with huge issues, and a competent cooperative actress (Catherine McNamara). It cuts to the bone – touches on a very raw nerve where the interaction between director, actor and material has unhinged the director who has, subsequently, lurched into a kind of psychotic megalomaniacal misogynistic tirade. His abusive behaviour is endorsed throughout by his male co-workers. It's alarming to watch, frighteningly real and skillfully drawn by writer/director Chris Dunstan and performed with flawless conviction by Brett Johnson, Catherine McNamara and Douglas Niebling.
Catherine McNamara plays the Actress playing Strindberg superbly.
The nudity and sexual references have the potential to be shocking and shockingly funny.
Very acute.
Thank You, Thank You Love by Tobias Manderson-Galvin @ 9.30 pm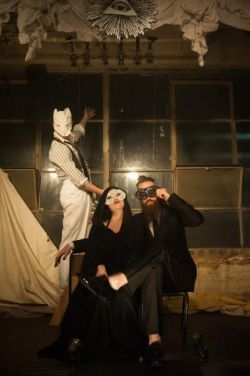 Surely every performer knows the fear of dying on stage. Maybe dying in performance could be sort of masochistically addictive as it seems it must have been for Tommy Cooper a stage Magician whose sad demise is quoted as inspiration by Manderson-Galvin for this work of five short plays about dying on stage or, one could say, that die on stage.
Initially seated in a huge haze of fog it is certainly not always clear what is going on or why and that is a good part of the overall charm. It is pretty much up to you to glean meaning where you find it. Some things stand out - but often things don't seem to match or link up. As the evening progresses not only the fog but everything seems to spill out off the stage.
The suspended state one feels held in could be likened to a type of disjointed arbitrary chaos that creativity can be born/emerge from.
Thank You, Thank You Love is messy, kooky and embracing – funny and fun and actually a great chance for the creator and performers to connect toy and play with an audience. This they do with generosity. It is complex and ambiguous and full of glitches that sometimes seem completely real and unrehearsed or at the very least under-rehearsed. This work is an orgy of chaotic, sometimes realized and sometimes semi realized, ideas with a healthy dash of self-deprecation staged in front of wine soaked curtains.
Whatever. Once one has died on stage and felt the heavy weight of failure surely things can only get better from there.
Performances by Tobias Manderson-Galvin, his sister, Sam Young and Becky Lou Church are all well pitched.
Disarming and highly enjoyable.
Suzanne Sandow
Photograqpher: Sarah Walker.