Jersey Boys
Book by Marshall Brickman and Rick Elice. Music and lyrics by Bob Gaudio and Bob Crewe. Princess Theatre Melbourne. From Jan 12, 2013.
"Big Girls Don't Cry" says the song, but this big girl did at last night's opening of the return season of Jersey Boys. They were tears of nostalgia and joy for the music that painted the soundscape of my youth. But Jersey Boys is more than just a compilation of smash hits from the Sixties. It has perhaps the best book of any musical I can think of, and that sets it apart. It has history, and drama and truth (from four different perspectives), stunning dialogue and a great story. While other bio shows may feed us sanitised homilies, Jersey Boys pulls no punches and gives us, without judgement, true insight into what it meant to grow up in a slum state like "Joisy" (rhymes with noisy), where music was one of the very few roads out. This combination of book and music, plus a gifted cast, reaches beyond excellence to give us a night of unforgettable musical theatre.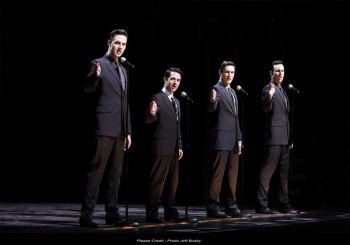 Declan Egan is the perfect Bob Gaudio. Young, charming, smart and very talented, this NIDA graduate is all the things Gaudio personifies and more. It's hard to believe it's his first professional show. Anthony Harkin is electrifying as the ultimate Jersey boy Tommy de Vito, who brings the group to its knees. A class act indeed. Glaston Toft brings an intelligent wryness to Nick Massi, and is a delight to watch. Both these super talents are WAAPA trained, and it shows. I don't have enough superlatives for Jeff Madden's portrayal of Frankie Valli. He's a true triple threat whose voice is arguably better than Valli's, whose moves are perfect and whose acting alone would (and has) won him awards. Put these four together and you have not just a tribute, but the "real thing" – half a century later. The harmonies, the blend of voices, the Valli falsetto, the moves (including the odd "sailor's hitch" that they favoured) all took me back to the Four Seasons concerts I attended "back in the day"; pure magic. Choreographer Sergio Trujillo and Director Des McAnuff have captured the era perfectly and magnified it to leave an indelible stamp on our senses.
Of the supporting cast, Michael Griffiths is simply delicious as Bob Crewe, Brent Trotter uncannily gives us actor Joe Pesci as a youth in a stunning cameo, and Vince Harder shines in a variety of roles, but it's his astonishing voice that truly makes its mark. There really is no weak link anywhere in the cast, and that's remarkable in itself, and once again emphasises the depth of talent Australia has to draw from. Kudos to the band and all the technical staff for the quality of their contributions and special mention too of the programme: it's beautifully written and photographed and a great historical document of the era as well as a fabulous production document.
Outside the Princess theatre the crowds were buzzing long after the doors were closed. On a Jersey Boys poster a quote proclaimed it "easily the best musical ever" I couldn't argue – I was too busy singing those fabulous songs and dancing three feet above the pavement. Oh What a Night! What a show!
Coral Drouyn
Images: (top) Graham Foote, Declan Egan,Anthony Harkin and Glaston Toft & (lower) Declan Egan, Graham Foote, Anthony Harkin and Glaston Toft. Photogrpaher: Jeff Busby.
More reading