Kismet
By Robert Wright and George Forrest, adapted from the music of Alexander Borodin. The Production Company. State Theatre, the Arts Centre, Melbourne. Director: Terence O'Connell. Musical Director: Peter Casey. Choreographer: Alana Scanlan. August 17 – 21, 2011.
Kismet is a big show, so not often tackled by the amateur companies, and unlikely to be produced professionally. Hence it was an ideal vehicle for a semi-staged production by The Production Company, and they did it well. Orchestra Victoria provided the biggest orchestra they have used, and they were in fine form under the excellent Peter Casey, who combined rhythmic vitality with lyrical phrasing.
The rising young star of Victorian Opera, Janet Todd, was a delightful Marsinah, singing beautifully and looking gorgeous. She was well partnered by Josh Piterman as the Caliph.
I have seen and sung in numerous productions of Kismet but I don't think I have seen a better Wazir than Mitchell Butel. He was suitably very camp and didn't miss a comic moment. His solo was made even more amazing by the choreography of the male dancers. As Lalume, his vampish wife, Chelsea Plumley enjoyed every moment, and the difficult "Not Since Ninevah" was very well sung, particularly considering she often had to sing on her back while being carried through the air by some of her male slaves!
The role of the Poet, Hajj, is one of the most difficult and rewarding in the music theatre baritone scene. Replacing the originally advertised baritone at short notice, Gary Rowley sang as well as I have heard him, but his dark voice was not suited to this character. I kept thinking what a magnificent Sweeney Todd he would make, but he was too serious and lacked the comic timing required. He needs to lighten up and enjoy the role more.
As usual, the sets were minimalist and screens flew in and out to allow the action to flow. As it was opening night there were a few slips, while the sound didn't always come on at the right time and tended to distort the operatic voices. It was well directed with good lighting and the costumes were a highlight.
All in all it was a very enjoyable night at the theatre.
Graham Ford
Photographer: Jeff Busby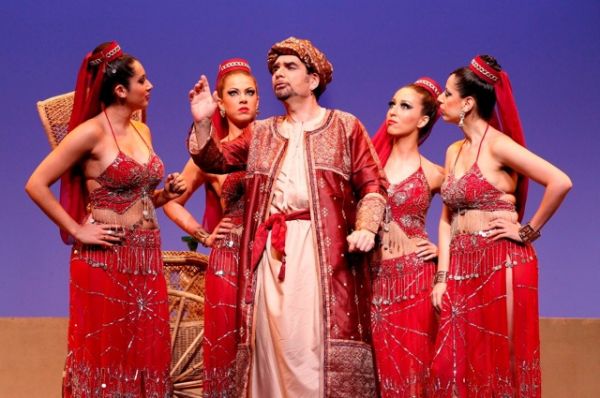 To keep up with the latest news and reviews at Stage Whispers, click here to like us on Facebook, or follow us on Twitter