The Laramie Project – 10 Years Later
By Moises Kaufman and members of the Tectonic Theater Project. Red Stitch Theatre, Arts Centre Melbourne (Vic). Fairfax Studio. Director: Gary Abrahams. Set Designer: Peter Mumford. Costume Designer: Yunuen Perez. 16 – 26 May, 2012.
Nine actors take on 60 characters in an expertely-paced and intensely compact theatrical experience lasting just over 100 minutes, without interval, in The Laramie Project – 10 Years Later.
In 1998 international media attention swamped the town of Laramie, Wyoming, when young gay university student, Mathew Shepard, was brutally bashed, tied to a fence on the town's perimeter and left to die. One month later members of the Tectonic Theater Project conducted interviews of the town's residents and presented a collage of their responses in The Laramie Project. Ten years later, the Tectonic Theater Project members return to Laramie and find memory being transformed by folklore and rumour, despite the documented facts.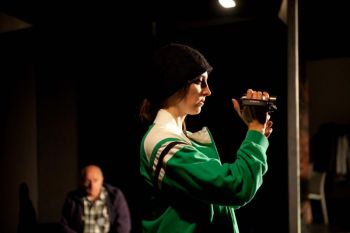 It is impossible to credit all the superb individual performances, although Paul Ashcroft's quietly hopeless portrayal of the imprisoned Russell was captivating, Kate Cole's traumatised police officer was impressive, and Chris Connelly's barely contained public grief as Matthew Shepard's father is heart-stopping. Congratulations go to the whole company.
Minimal costume changes facilitate the many characterisations, a jacket here - a scarf there, and are simple and effective. Modular panels, manoeuvred by the cast, further contain the compact palette on which this drama is born.
The Laramie Project – 10 Years Later is a disturbing reflection on society that demands the audience's concentration and commands its respect.
Lucy Graham