Love Never Dies
Andrew Lloyd Webber and Glenn Slater. Book by Andrew Lloyd Webber and Ben Elton. The Really Useful Company. Regent Theatre, Melbourne. (Vic). Director: Simon Phillips. Producer Tim McFarlane. Set and Costume Design: Gabriela Tylesova. Australian Premiere Performance, 28th May, 2011.
Australia's Love Never Dies production is a disarmingly sumptuous feast for ears, eyes and soul, with ravishing music, breathtaking set design and costuming. The sequel to Andrew Lloyd Webber's Phantom of the Opera opened last night at Melbourne's Regent Theatre to a rapturous reception.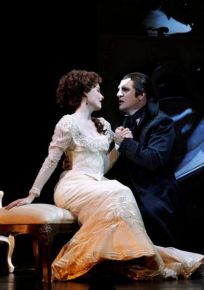 Ten years have passed since the Phantom disappeared from the Paris Opera and Christine, now a renowned opera singer, is married to Raoul with a ten-year-old song Gustave. Raoul's financial woes have led Christine to accept an invitation by Hammerstein to sing, but instead the family is lured by The Phantom, now known as 'Mr Y', to Coney Island, an early twentieth century amusement park.
Ben Lewis (The Phantom) is impressive, commanding the stage with larger-than-life characterisationand rich clear singing. In the vocally demanding opening prologue Til I Hear You Sing, Lewis clears every obstacle with apparent ease.
Anna O'Byrne's (Christine) on stage relationship with son Gustave is warm, yet what I imagine is suitably distant for its time. Hers is a sustained portrayal of a troubled figure, and she performs Love Never Dies, the climactic showstopper, with passion and grace.
Eleven year-old Kurtis Papadinis, fresh from playing Michael Banks in Mary Poppins, is wonderful as Christine's son Gustave. He effortlessly works within a very complex set design, rising to the dramatic heights required, particularly at the close. Kurtis is one of five boys who are set to undertake the role.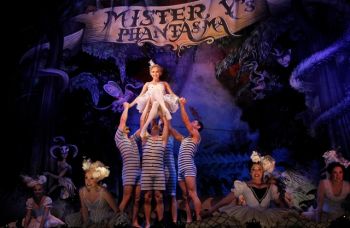 Sharon Millerchip (Meg Giry) returns to the role she played in Phantom of the Opera, and makes a warm and crowd-pleasing performance in the Bathing Beauty, with the vital twenty-three strong ensemble, complete with neck to knee swimsuits and moustaches. An inspired touch in costuming and choreography, and an oasis in an otherwise cheerless plot.
Other highlights include Simon Gleeson's (Raoul) wonderful melancholy at the opening of Act 2, with Why Does She Love Me? and again later in Christine's dressing room.
Maria Mercedes enlists the audience's sympathy in her compelling portrayal of the bitter Madame Giry successfully, although her singing occasionally felt forced.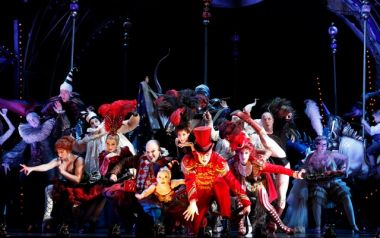 The Coney Island amusement park has inspired the set, which is nothing short of extraordinary. Set and Costume Designer Gabriela Tylesova has incorporated elements of alchemy, blending elegance, the sinister and the macabre through brilliant use of mirrors and shadow in collaboration with lighting designer Nick Schlieper.
Despite its brilliance the show is not without its problems and distractions. Towards the end of Act 1, three consecutive duets dilute the dramatic pace, a problem which is diffused to some extent by the set design about-face between Beneath a Moonless Sky and Once Upon Another Time.
At the close of Act 1, in The Beauty Underneath, an imbalance between vocalists and orchestra was disappointing, and throughout the performance Squelch (Paul Tabone), Fleck (Emma J Hawkins), and Gangle's (Dean Vince) scenes call for weightier delivery in order to capture the audience's imagination.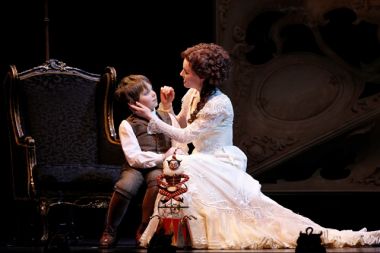 Then an incongruous costume change for Christine who is wearing a beautiful white number as she prepares to perform, but then appears in a completely different peacock gown.
Deservingly, the opening night performance was met with a standing ovation. Speaking to the audience from the stage, Andrew Lloyd Webber declared it the best production of his work he'd ever seen. This is a must-see event for musical theatre fans and occasional goers alike, who will relish its spectacle, be moved by impassioned performances, and take away its eminently hummable melodies.
Lucy Graham
Photographer: Jeff Busby
To keep up with the latest news and reviews, visit Stage Whispers on Facebook and 'like' us, or follow us on Twitter.
Opening Night Party pics on our Facebook Page
Read our earlier coverage.
A Brand New Production of Love Never Dies
Love Never Dies – Inside Rehearsals.