Mixed Doubles
By various authors. Brisbane Arts Theatre. 1 February – 1 March, 2014.
Forrest Gump's 'Life is like a box of chocolates' also describes this marriage-go-round.
Mixed Doublescontains eight longish two-hander sketches about marriage, separated by monologues. It opens with George Melly's The Vicar. Alex Lanham timed perfectly this homily to a newly married couple, delivered with gravitas. The title of the unfortunate choice of hymn to follow shattered that mood.
In James Saunders' A Man's Best Friend, we meet newly-weds (Katrina Holmes and John Bolton) travelling to their honeymoon, she making sensual overtures, he more interested in the guitar he still can't play.
And so it goes: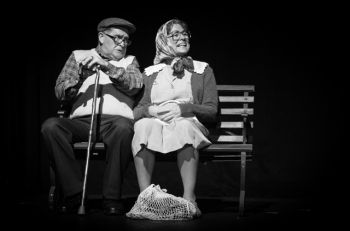 In Score (by Lyndon Brook), Damien Campagnolo and Tamara McLaughlan, play an upwardly-mobile couple's side of a prickly tennis match. Campagnolo excelled again with Bronwyn Morrow in Countdown (Alan Ayckbourn), a delightful examination of marriage in its autumnal stage.
Night (Harold Pinter) and Permanence (Fay Weldon) each examine the fortyish period - Greg Scurr with Tamara McLaughlan; and Rebecca Elise Lamb with Martin Anderson, respectively. Katrina Holmes and John Bolton in Norma (Alun Owen) explore the extra-marital affair period. In Silver Wedding (John Griffith Bowen), Tanya Manderson and Greg Scurr have reached the stage where she needs to celebrate but he arrives too late after putting work commitments first. Finally, Alex Lanham and Bronwyn Morrow examine death and the importance of sharing a good cup of tea in Resting Place (David Campion).
Thought provoking.
Jay McKee