No Child…
By Nilaja Sun. Arts Centre Melbourne, Fairfax Studio. As part of the Melbourne Festival. 9 – 14 October, 2012
Engaging, dynamic, powerful. Nilaja Sun is all these things, and so is her one-woman play, "No Child…", a featured Melbourne Festival production at the Arts Centre Melbourne.
Written and performed by Sun, and directed by Hal Brooks, "No Child…" is a witty theatrical commentary set in the New York City public school system. Sun paints a picture of the Malcolm X High School (located in the Bronx), playing 16 characters to perfection – teachers, students, parents, custodian and security staff, and the college principal. The overarching story is of the development of a Year 10 play; a government funded arts fill-in program designed to occupy the twenty-seven 'worst students in the school' for six weeks. It's very "Dangerous Minds": the rookie teaching artist, the students plagued by abuse, poverty and low self-worth.
Well-developed mannerisms, physicality, voice and expression make each character a delight. We've seen these characters before but they're not stereotypical – Sun fleshes out new angles.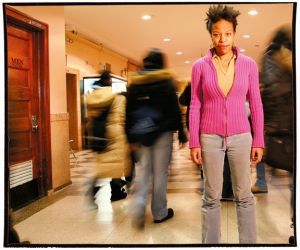 Occasionally Sun delivers a monologue, other times she divvies back and forth between characters. The former allows Sun to slow down and explore; the latter provides humour and begets wonder how Sun has the energy and ability to do this. Her range is extensive as she uncannily portrays different genders, ages, nationalities and socio-economics.
Performed over 700 times around the world, the set consists of five chairs. The lighting plan, whilst simple, requires sharpness to mirror Sun's transition between characters. Minimalism is evident in Sun's costume too: blue trousers and a white shirt, versatile for all the characters.
Not minimal are the subtexts. The show touches on neglect, abuse, death, teen pregnancy, gangs, safety, and the state of the American public school system. The learning isn't limited to the students though. The audience learns to look beyond the attitude and really see the student. It's quite a journey by the end of the show, and the explosion of emotions is surely what drove the ten minute standing ovation for Sun on opening night.
Anyone that has ever spent time in a classroom would adore this show, finding humour and familiarity in the situations. Truly unique and innovative in its delivery, "No Child…" is not to be missed.
Tammy Shmerling
Tickets via www.melbournefestival.com.au or artscentremelbourne.com