Painting with Words and Fire
By Keith Gow. The Wooden Leg (VIC). Revolt Melbourne. Design: Andre White. Lighting: Ryan Hodge. Musician: Claire Healy. Feb 15 – 25, 2012
The Loading Dock at the Revolt Melbourne in Kensington is an ideal space for Painting with Words and Fire. So up close and personal is the setting that you need to be prepared to be eyeballed by the actors themselves, giving you the feeling that their characters are talking directly to you. It can be a little confronting, but thrilling.
And that's not all that's confronting. The three female characters Penny, Jane and Sophia offload their pain to the audience, holding nothing back, and some of its not pretty, even vulgar. They've all hit a crossroad, and they want your help, to be understood, to not be judged, to be healed.
It's a moving narrative by writer Keith Gow, developed with the three actresses Christine Husband, Adrienne Sloan and Renee Palmer. It is not story as such but each character performs a monologue, allowing time for the pathos of each woman to be divulged.
But the intention is to offer hope here. The play concludes with the three women crossing paths in a surreal scene in which you're not sure if they actually meet or not, but they somehow help each other to move on.
There are no neat answers though; the characters are flawed and their situations are complex. I was left with the impression that we may never know someone's true story. These three strong women dare to reveal their secret pain and deep regret at the risk of being judged.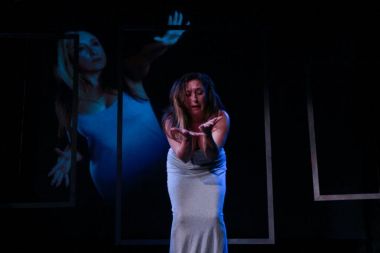 It's a pleasure to watch three clearly competent actresses sink their teeth into such strong roles. After seeing a few plays recently with very sparse sets, Andre White's (assisted by Husband), feels so layered and luscious - spreading across walls and suspending in mid-air. Lighting by Ryan Hodge enhances the varied moods of the play and gives visual dimension to the character Sophia.
Painting with Words and Fire is an intriguing and different theatre experience.
Karen Coombs
Images (from top) Renee Palmer, Christine Husband (Photos by Andre White) and Adrienne Sloan (Photo by Christine Husband)
To keep up with the latest news and reviews at Stage Whispers, click here to like us on Facebook, or follow us on Twitter.