The Producers
By Mel Brooks and Thomas Meehan. Hornsby Musical Society. Hornsby RSL. May 2 – 10, 2014.
Mel Brooks' 1968 film comedy where unscrupulous producers come to grief attempting to stage the worst-ever musical translates joyously to the musical comedy stage, as its record 12 Tony Awards attest, and Courtney Cassar's production for Hornsby Musical Society does great justice in adapting the Broadway hit to Hornsby RSL's challenging stage. His fluid production, combining minimalist sets, a strategically placed LED banner, and effective maneuvering of his cast, meets the challenges thrown up by the venue. All night, simple, well thought-out solutions to challenging moments on a stage with minimal backstage facilities, produced on a shoestring budget, never fail to impress. Auditorium exits, often overused at this venue, are limited to one well-placed, eye-catcher to shift focus from a scene change.
An LED screen above the stage, reminiscent of a theatre marquee, or opera surtitles, hints at locations to complement the minimal settings, but even better still, uses animations (Benson Koschinski) to join in deliciously on the gags (so much so that my lips are sealed to avoid spoiling them for anyone attending on the second weekend).
And this is excellent community theatre, well worth a visit.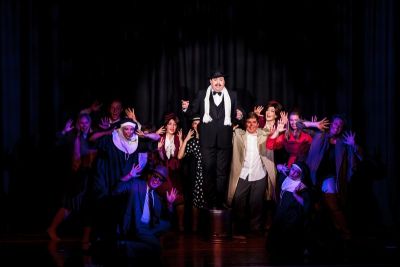 Heading the production is a talented young trio of leads; Max Newstead, suitably neurotic as cynical veteran producer Max Bialystock, Stuart Owen, boyish and bemused as his sidekick (accountant /aspiring producer) Leo Bloom, and Chloe Horne, radiantly funny as blonde bombshell Ulla.
Max Newstead, significantly younger in real life than his namesake role, immortalized on screen by Zero Mostel, lands Max's comic timing and idiosyncrasies. There's terrific chemistry between Newstead and Stuart Owen, who utterly nails Leo Bloom; just the right age for a role which feels a somewhat more perfect fit. They're the engine of the production, and they keep it firing on all cylinders.
Chloe Horne's archetypal, yet very knowing, blonde bombshell Ulla is stunning and vivacious.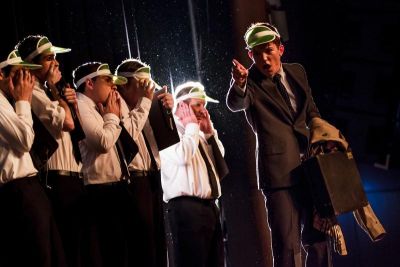 Philip Youngman's Nazi playwright Franz Liebkind is a stereotypical Hogan's Heroes-esque hoot.
As flamboyant director Roger DeBris, Paul Sheldon's solid performance is, ironically, the least campy of his extremely 'keep it gay' entourage, upstaged by Andrew Jackson, wickedly outrageous as his high camp P.A. Carmen Ghia. He comes right into his own, though, in the 'Springtime for Hitler' sequence.
Pru Daniel and Jacquie Nolan, quite gorgeous as the two usherettes, chime in delightfully with their sassy all-singing, all-dancing commentary.
Style and humour abounds in Candice Arnold's choreography; after what seemed like a slow start in the opening ensemble numbers, she really hit the mark in 'I Wanna Be a Producer'.
As always, the Little Old Ladies' Zimmer frame number is a showstopper.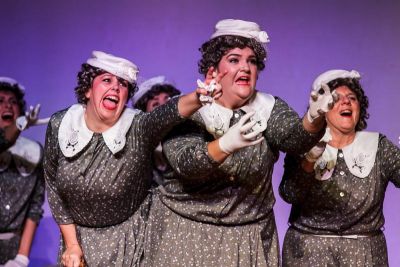 The frenetic zaniness of act two, full to overflowing with bad musical comedy and silly farce, is played to the hilt.
Andrew Bartle and his orchestra provide a big Broadway sound, while Loud and Clear get the audio balance just right (one of this venue's other significant challenges).
A striking final silhouette sums up just how well all the elements combine in this production.
Director Courtney Cassar and team have raised the bar for Hornsby Musical Society, with easily the best theatrical use of the Hornsby RSL venue I've experienced.
Neil Litchfield